Pet Wellness Guides > The 12 Best Viral Halloween Dog Costumes of 2020
The 12 Best Viral Halloween Dog Costumes of 2020
Posted: 04/25/2022 | BY: Erin Cain | Categories:
Halloween isn't just for people anymore. Just like other Halloween traditions, such as pumpkins and candy corn, this holiday has gone to the adorable costumed dogs standing in the doorway, watching hopefully for trick-or-treaters. Get a jump on your Halloween planning by choosing one of these twelve dog costumes to dress up your four-legged pumpkin pup.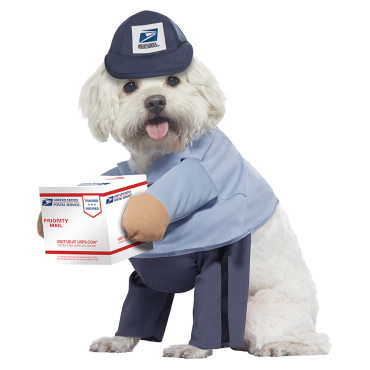 1. USPS Delivery Driver Dog & Cat Costume 
Feed two birds with one scone by both ending the age-long feud between Courier and Dog by making your dog dress up as one for Halloween and show your support for the USPS the cutest way we know how.
Fur-ocious review: "I'm a mail carrier myself so it was cute to have a cute mailman delivering a package to my house."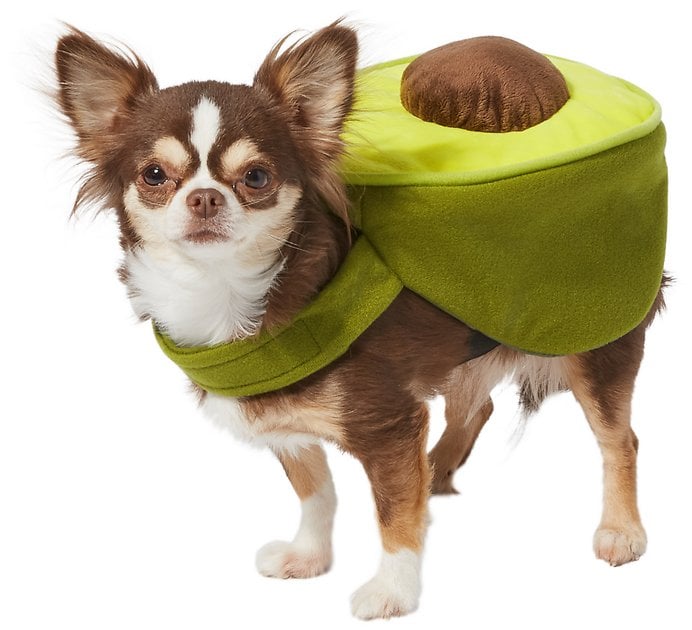 2. Frisco Avocado Dog & Cat Costume
Tapatio and Cholula would be nothing without guacamole. Don't put your hot sauce costumes to waste and complete the set with an "avocadog." For the family who has it all.
Fur-ocious review: "My avocodog is the center of attention with this costume. What's more popular than avocados and puppies? A puppy dressed as an avocado!!"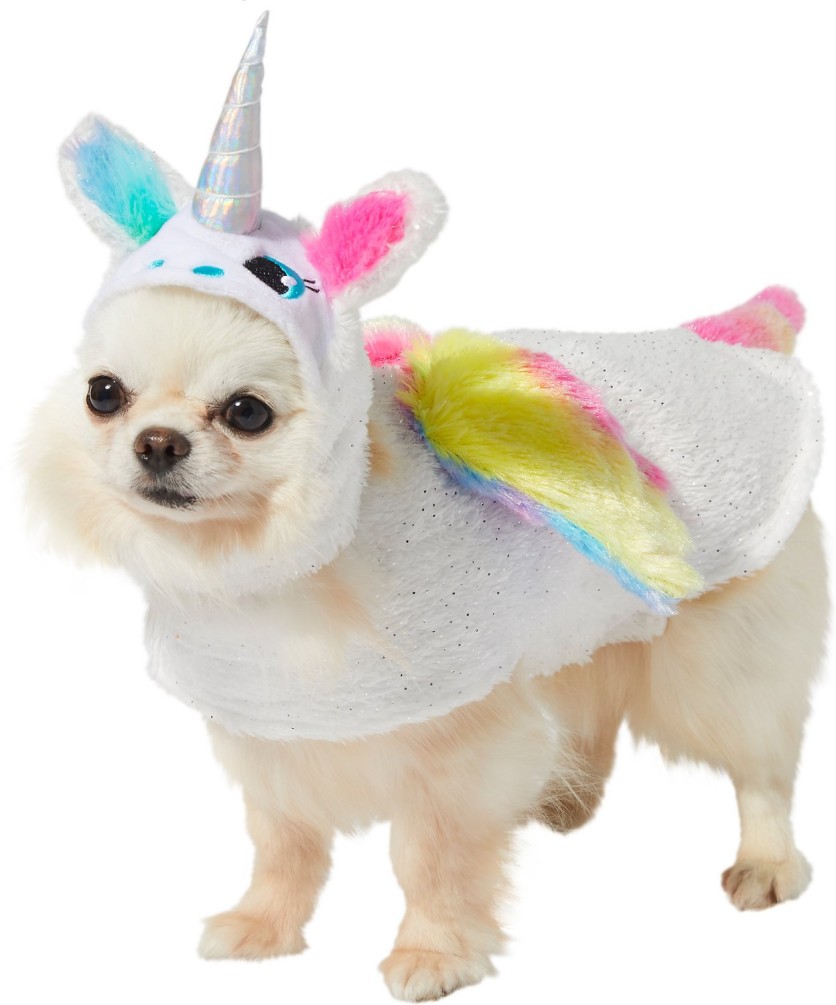 3. Frisco LED Unicorn Dog & Cat Costume
Your dog is your everything. A unicorn, if you will. Not only will you honor their true purpose in your life with this costume, but the LED lights will transform them into 100-footers.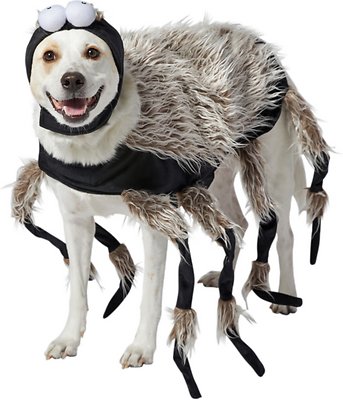 4. Frisco Spider Dog & Cat Costume
What's also tiny and furry and loathed by nearly all humans? Spiders! We wish this costume could help bruise your adorable dog's astronomical ego, but it only makes them furrier and cuter.
Fur-ocious review: "I think this is absolutely adorable and hilarious so happy I got it."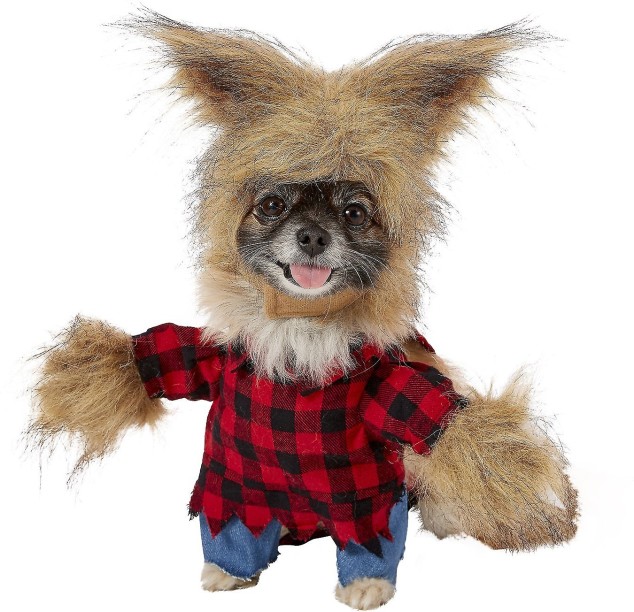 5. Frisco Front Walking Werewolf Dog & Cat Costume
Speaking of furry, the most natural scary costume for a dog might be it's supernatural, wild counterpart: the werewolf. Unfortunately, this costume effort isn't scaring anyone. Fur-ocious review: "Adorable costume! I purchased this for a pet costume party my apartment building had. My chorkie Earl was the hit of the party because he had the best costume!! Happy Halloween!!"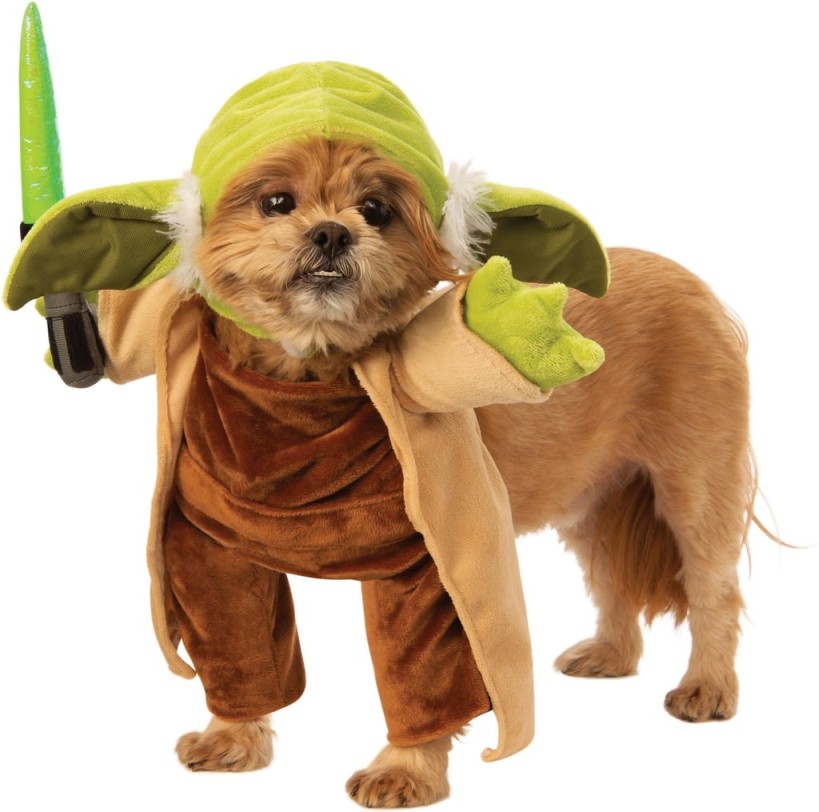 6. Rubie's Costume Company Walking Yoda & Lightsaber Dog Costume
The best part of getting to know a dog is meeting their personality. Some dogs are goofs, while others have so much soul that it feels like they've lived many lifetimes. Yoda it up for that soulful dog. It's their true form.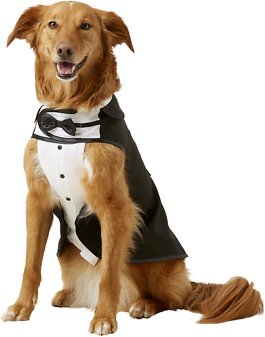 7. Frisco Formal Dog & Cat Tuxedo, Black
Maybe your dog is on the brink of turning five human years (35 dog years) and about to become eligible to run for President of the United States. We all know campaigning starts well before the announcement is made. Dress for the job your dog wants.
Fur-ocious review: "I bought this tux for my daughter's dog Chachi to wear to my niece's outdoor wedding. They were kind enough to invite him, so I thought he should be dressed for the occasion. He was a hit! Everyone loved his tux! It was very good quality for the price and very easy to put on him. You won't be disappointed!"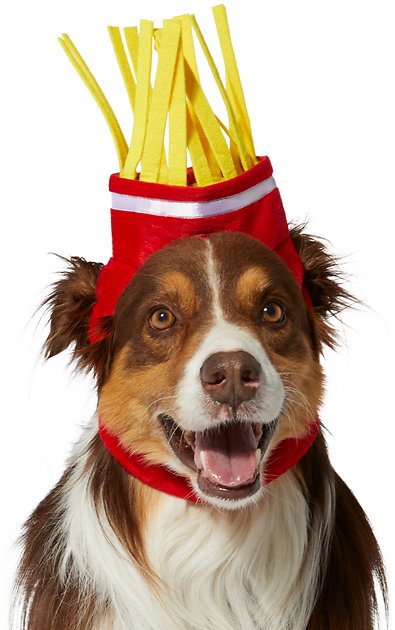 8. Rubie's Costume Company French Fries Dog Headpiece Costume
This costume goes out to all the doofus doggos. Is there anything else left to say?
Fur-ocious review: "This is perfect I have no edits for this hat. Extremely important addition to my dog's wardrobe."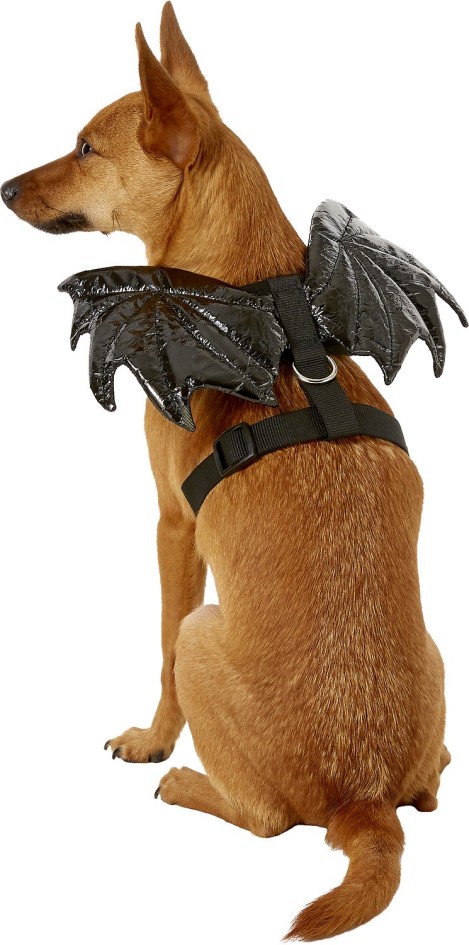 9. Wagatude Black Bat wings Dog Harness
This is the perfect costume for that dog who just refuses to wear clothes, who feels disrespected, and who hates you a little bit every time you try.
Helpful review: "Size waaaaayyy up for your pup! I bought a medium for my heeler mix who is 24 pounds and the sizing was so small that it fit my tiny terrier pup who is 11 pounds."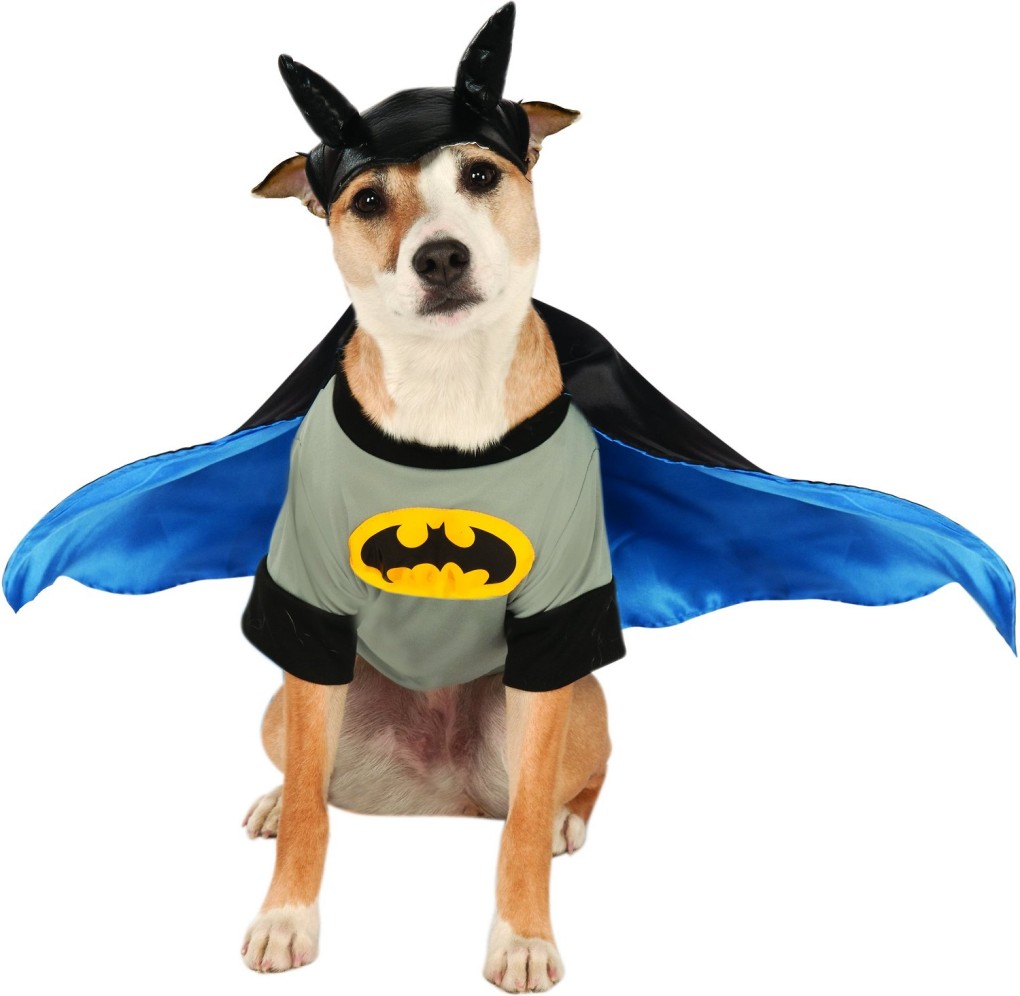 10. Rubies Costume Company Batman Dog & Cat Costume
If you have two dogs to dress up, we recommend Batman with his trusty bat friend. We all know Batman trusted those cave bats as confidantes more than he trusted Robin.
Fur-ocious review: "I loved this!! Our Dachshund's nickname is the Bark Knight. So – we were really happy to put our pup in it. It's really good quality clothing. Be sure to measure your dog, though. It's just ever so tight on my long boy. The only reason I docked this one star is because at the same time, it's a little too long for my Dachshund too? We really enjoyed it anyway though!"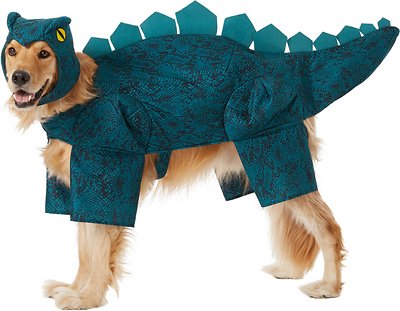 11.  Frisco Stegosaurus Dinosaur Dog & Cat Costume
Tap deep into your pre-historic Fred Flinstone roots and remember a far-away time when dinosaurs were pets. Okay, maybe that never happened, but it can happen right now.
Fur-ocious review: "Bought this outfit for my French Bulldog Mix, we are attending a dog Halloween event and I decided the pups would make adorable dinosaurs and I would dress up in an inflatable T-Rex costume as well. I LOVE THIS! It fits him very well, a bit big in the arms but it works, and he looks so stinking cute. I laughed for 15 minutes straight after putting it on him. I'm sure Boomer will be a show stopper at the event."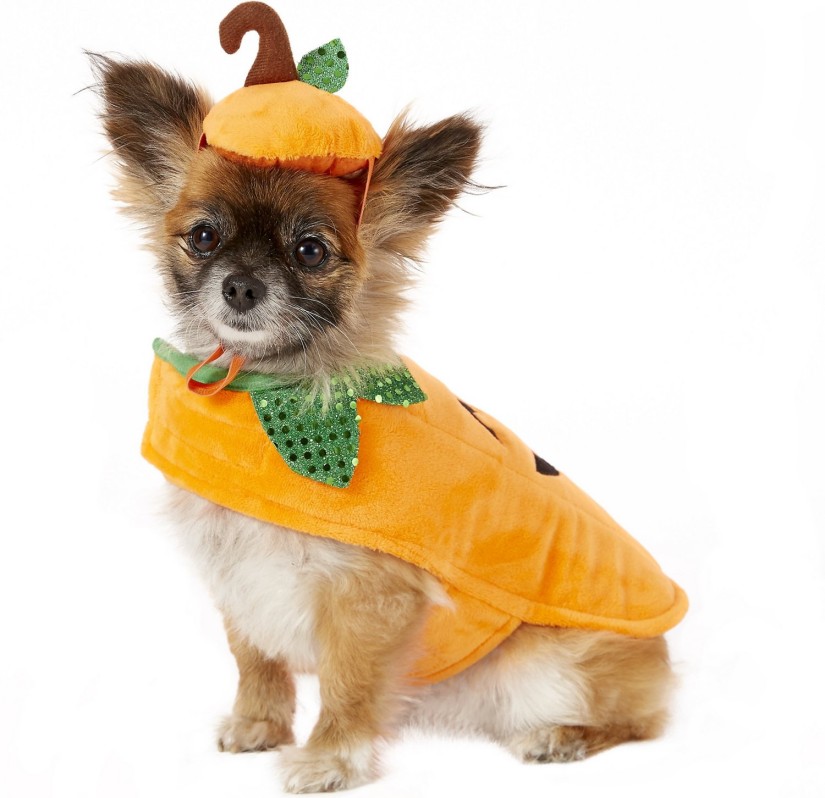 12. Frisco Pumpkin Dog & Cat Costume
We can't explain why humans evolved to find animals in pumpkin costumes the most maddeningly cute; but, with a 100% recommendation rating from 42 Chewy reviewers, you can't go wrong.
Fur-ocious review: "My dog looked adorable and was comfortable in this outfit. I thought the hat would bother him but he didn't mind at all. He was able to wear it and still feel good which is always the most important thing for me."
Don't wait to get your pup's perfect costume. Halloween will be here before you know it, and you don't want your dog to be the only one on the block without a cool and cute outfit. Happy Halloween, and may the bark be with you!