Pet Wellness Guides > Halloween Safety Tips for Your Pet
Halloween Safety Tips for Your Pet
Posted: 05/02/2022 | BY: Erin Cain | Categories:
Halloween is almost upon us, and while it can be a fun holiday for pet parents and their furkids, it can be a scary one, too — especially for your dog or cat. While some pets do enjoy having their owners dress them up in cute costumes or enjoy the entertainment of seeing neighborhood kids walk past the house, some pets can become stressed and anxious due to the excitement and sudden changes in their environment. How can you and your pet safely enjoy Halloween, even if Halloween may look a little different for everyone this year? Here are some important Halloween safety tips for your pet that will make the holiday more treat than trick.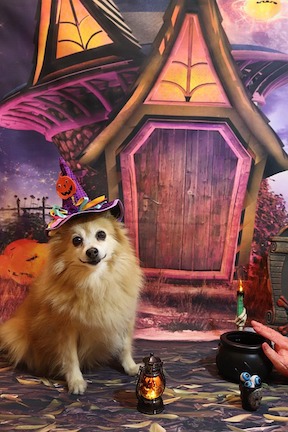 1. Choose your costume wisely.
Everyone loves a cute dog or cat, especially when they are dressed in adorable Halloween costumes! However, your pet might not be as thrilled with this prospect if the outfit isn't the right size for her.
Measure your cat or dog to ensure you order the correct costume size; costumes that are too small can be uncomfortable and constricting. Try to pick costumes that won't obscure your pet's vision as that can add to her stress. Also, watch for any costumes that include rubber bands to keep the outfit in place. Those bands pose a choking hazard to your pet.
As always, if your pet is not a fan of dressing up, don't force the issue with her. You will only add to your pet's stress and anxiety levels and potentially damage her trust in you.
2. Be careful with any lit pumpkins, oils or candles.
Candlelight, lighted pumpkins and scented oils are often part of Halloween celebrations, but they can also potentially hurt your pet. It's easy for a dog or cat to knock over decor in the house, but lighted or hot items can result in burn injuries for your pet and significant damage to the home.
Instead of lit decor, use battery-operated candles or take the steps necessary to keep candles and warming oils well out of paw's reach in your house.
3. Prevent pet door dashing.
While not all communities will be celebrating Halloween in its traditional door-to-door format this year, some neighborhoods may still plan to do so. If you are participating in the Halloween festivities in your neighborhood, do everything you can to keep your pets inside and away from the door you plan to use for candy distribution.
With masked and costumed strangers frequently at the door, It's all too easy for a cat or dog to dart outside in fright or panic. That's one of many reasons why you should make sure your pet's ID tag is securely on her collar and contains your updated contact information.
Some dogs may view trick-or-treaters as a danger to their home, and to defend their territory and people, some dogs may even bite at a visitor. If possible, keep your pet in a separate location while you are handing out candy, such as a crate, or keep her secured on a leash.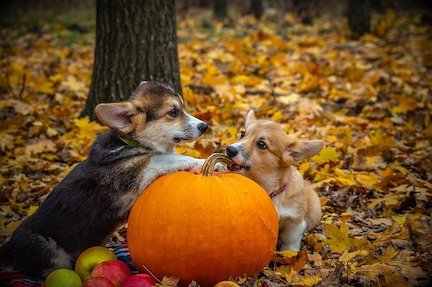 4. Keep candy and sweets out of your pet's paws.
Speaking of candy, it's fine for people, but not for pets. Even a small amount of candy can cause illness or serious health issues in a cat or dog. These are the reasons to steer your pet away from sweet treats:
Wrappers and packaging for candy can be easily chewed and swallowed by your cat or dog, resulting in choking or blockage hazards.
Caramel apple sticks may be swallowed as well, causing not only a choking hazard but also a potential danger to your pet's internal organs.
If you think your cat or dog has swallowed something poisonous or dangerous, call your veterinarian, an emergency veterinarian clinic, or contact the ASPCA Animal Poison Control Center (APCC) at 1-888-426-4435.
5. Minimize surrounding noises.
Strangers in costumes, laughter and noise, screaming and yelling children, and ringing doorbells are enough to stress a pet parent out, so imagine what Halloween night must be like for your cat or dog.
Help your pet relax by placing her out of sight of the front door and in a room where she feels safe and comfortable. Consider a white noise machine or natural stress relief methods like plug-in diffusers and calming chews to keep the holiday enjoyable for your pet. For dogs and cats who are particularly anxiety-prone, use a Thundershirt for an added calming effect.
Enjoy the treats without the tricks
Whatever form your Halloween celebration takes this year, make sure that your pet is safe and secure. Go ahead and enjoy the treats, decorations, costumed visitors, and holiday spirit, just employ some preventative measures to make the holiday a happy one for you and your pets.
References:
Eliott, P. Putting Your Dog in a Costume? Follow These Dog Costume Tips. Retrieved from https://www.petful.com/pet-health/dog-costume-tips/.
AIMSS Staff. Microchips And ID Tags: What You Need To Know About Proper Pet Identification. Retrieved from https://www.aimss-sf.com/pet-identification/
Pet Poison Helpline. Chocolate Are Toxic To Pets. Retrieved from https://www.petpoisonhelpline.com/poison/chocolate/
Woodland Veterinary Hospital. The Dog Ate My Candy! Retrieved from https://woodlandvethospital.com/the-dog-ate-my-candy/
ASPCA. Animal Poison Control. Retrieved from https://www.aspca.org/pet-care/animal-poison-control