Pet Wellness Guides > A New Puppy Checklist: Everything You Need to Get
A New Puppy Checklist: Everything You Need to Get 
Posted: 04/25/2022 | BY: Erin Cain | Categories:
Welcoming a puppy into your home can be an incredibly rewarding and fun experience for your entire family. You get to form a bond with a new family member that will provide countless unforgettable experiences throughout the years.
However, adopting a new puppy isn't just a matter of bringing it home and providing food and water. This fur baby will need lots of attention and guidance (and we mean lots). But if you want the process to go smoothly, you should consider the things you need for a puppy for it to be comfortable and safe. Raising a puppy is a big responsibility and you need to consider all the puppy essentials that you'll need from the very start.
With that in mind, let's go over the new puppy checklist, detailing everything you'll need to prepare for bringing your new family member home.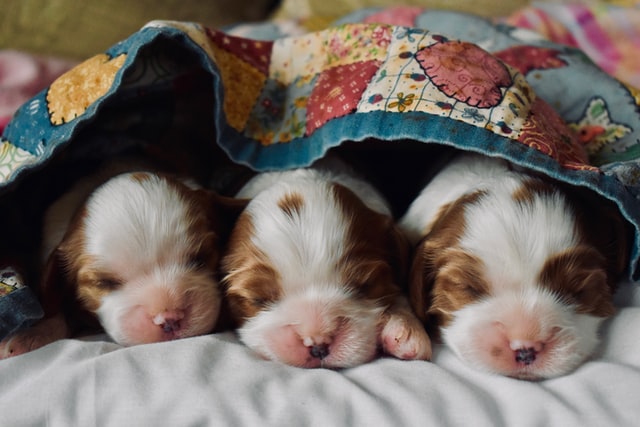 New Puppy Checklist: The Basics
Bringing a puppy home can be overwhelming if you're not adequately prepared. Puppies need a place to eat, sleep, and be entertained, so you need to check everything off a comprehensive puppy essentials list if you want to avoid scrambling for supplies at the last minute.
First and foremost, you need to determine what the puppy is going to eat. This is very important, as nutrition and health go hand in hand. Look around for the top food brands for puppies and young dogs. You can either do some in-depth research on Google, but we recommend consulting with a veterinary or pet expert for the best food for your new pup. You will need bowls for food and water but keep in mind that since dogs need structure, you should plan out a consistent place they can eat and drink.
As you'll be taking your dog on walks, buying the right collar and a leash will be essential. At first, you might want to consider getting a training leash, which can make it easier to train your puppy to stay close and follow your lead.
Prepare a designated place for your puppy to sleep and hang out in. When figuring out what to buy for a new puppy, many forget the importance of a comfortable dog bed and a crate. You need to have a place to contain your puppy when you're out or when they need to take a break.
Next on the new puppy shopping list are the items that will help with entertainment and exercise for your new puppy. Young puppies have a lot of energy and demand a lot of attention, so you need to provide them with plenty of stimulation and ways to keep busy.
Finally, if you want to keep your dog's fur healthy and beautiful, you will need to add grooming supplies to your first puppy checklist. Many people don't consider grooming an important part of a puppy, so let's discuss the importance of grooming in the next section.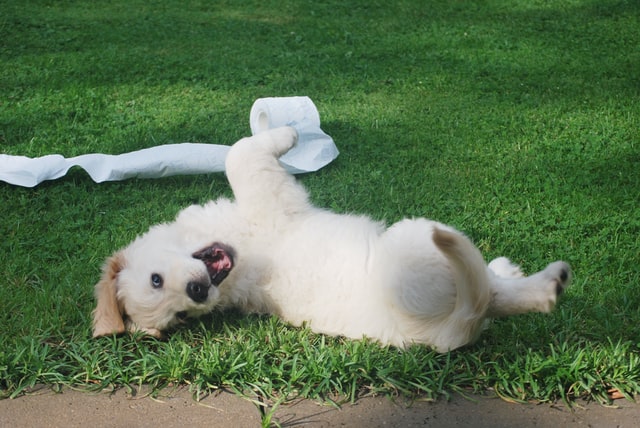 Puppy Essentials for Grooming
Keeping your dog clean and healthy is a top priority, so you should carefully consider what grooming items to check off your new puppy checklist.
First off, you'll need cleaning supplies because young doggies get messy and dirty very often. You'll need a special shampoo for washing puppies, as giving baths will likely be a regular occurrence. Luckily, dogs love baths — especially if you start them early. However, if doggie baths aren't your thing or you simply don't have the time or space (we see you, apartment dwellers!), you might also consider getting special dog grooming wipes, which might be sufficient when the dog needs to be cleaned, but a bath is unnecessary and not possible.
When you're planning for a puppy, you're likely not thinking about brushing puppy teeth. However, just like your dental health is important, it's essential to maintain good dental health for your pup. Just imagine all the sticks and dirt they get in their mouths daily, which is why maintaining oral hygiene is crucial! To help with this difficult to enforce hygiene, you should either get chew toys that promote good dental health or buy a dog toothpaste and toothbrush kit to use regularly.
Finally, make sure you buy quality brushes for both the topcoat and the undercoat, especially for breeds with longer hair that tend to get fur matting. By regularly brushing your dog, you will avoid more severe fur knots and ensure that your puppy is comfortable and happy.
Play Toy Puppy Necessities
If you want your puppy to be happy, you need to provide it with plenty of stimulation. In the first year of their lives, puppies are highly active and playful and you'll need to channel all that energy into positive playtime if you don't want it to turn into mischief around the house. Protect those couch cushions with chew toys!
One of the toys you absolutely must include from the new puppy checklist is a ball. It's a classic for a reason, as a ball is a perfect way for a doggy to channel its chasing and herding instincts.
You should also get a toy that your dog can play with on its own. Squeaky toys and kongs chew toys are perfect for this purpose, especially if you add a few treats inside so that the puppy has extra motivation when playing.
Finally, if you want to play tug with your puppy, getting a durable rope toy is a great option. It's not only great exercise that encourages bonding between you and your puppy, it also helps keep the teeth clean.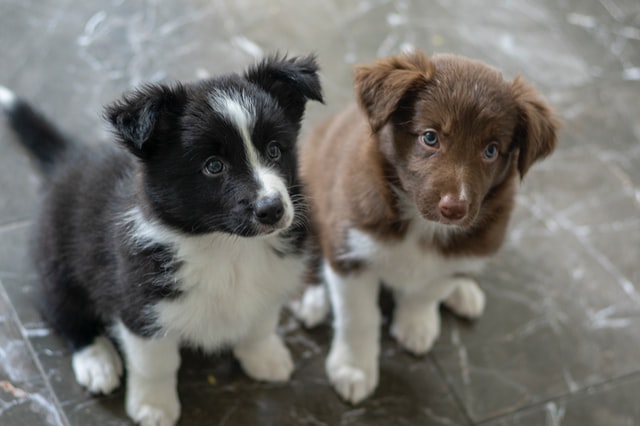 First Puppy Checklist: The Vet
Just like you need to go to your doctor, taking your puppy to the vet is impossible to avoid. So be sure to have a vet ready to go when you adopt. Whether it's for regular annual checkups, routine shots, or even emergencies, you need to be prepared to transport your dog and ensure that it can receive the proper care.
Therefore, you should buy a dog travel crate as soon as possible, considering the puppy's current size and the size they are likely to reach in the future. We recommend purchasing a crate prior to adoption so you can bring your puppy home safely.
It's also essential to consider pet insurance, as you want to make sure that if something were to happen, your canine friend would be fully covered and able to receive the necessary treatment.
Bottom Line
When figuring out what you need for a puppy, checklist-making is the best way to ensure you don't miss anything important.
Besides buying the necessary items themselves, pet insurance is just as important because you don't want to risk your new puppy's health — you want to provide your new fur baby with the best care possible. At Pet Insurance Review, you'll find a comprehensive selection of providers and can get a quote based on your specific needs.