Pet Wellness Guides > The Best Toys for Puppies for Playing, Teething, and Chewing
The Best Toys for Puppies for Playing, Teething, and Chewing
Posted: 04/25/2022 | BY: Erin Cain | Categories:
Life with a puppy is full of action and frequent breakouts of "the zoomies" around the yard and your coffee table. It's natural for puppies to be active as much of their initial development occurs between 2 and 10 months of age. Most puppies learn to play courtesy of their littermates, but that playful attitude and desire to expand their horizons extends well past when they become part of your family.
Keeping your puppy entertained is a sport in itself, especially if your pup is easily bored or loves to rip up every toy she is given. Puppies require physical and mental stimulation, and the right toys can offer both in abundance.
Thankfully, there are lots of great toys out there for puppies of every personality. We've put together a list of some of the best toys guaranteed to have your pup barking for more. Remember to play it safe, and never let your puppy play with a toy while unsupervised.
For chewers and teethers
During the teething stage, puppies will chew…and chew…and chew on whatever fits in their little mouths. Chewing massages puppies' sore gums and makes them feel better while those puppy teeth fall out and their adult teeth come in.
Other puppies love to chew because this action is in their nature; for example, retriever and shepherd breeds are mouthier than other dog breeds. Whatever the motivation, your puppy will love to chew on these safe, durable toys.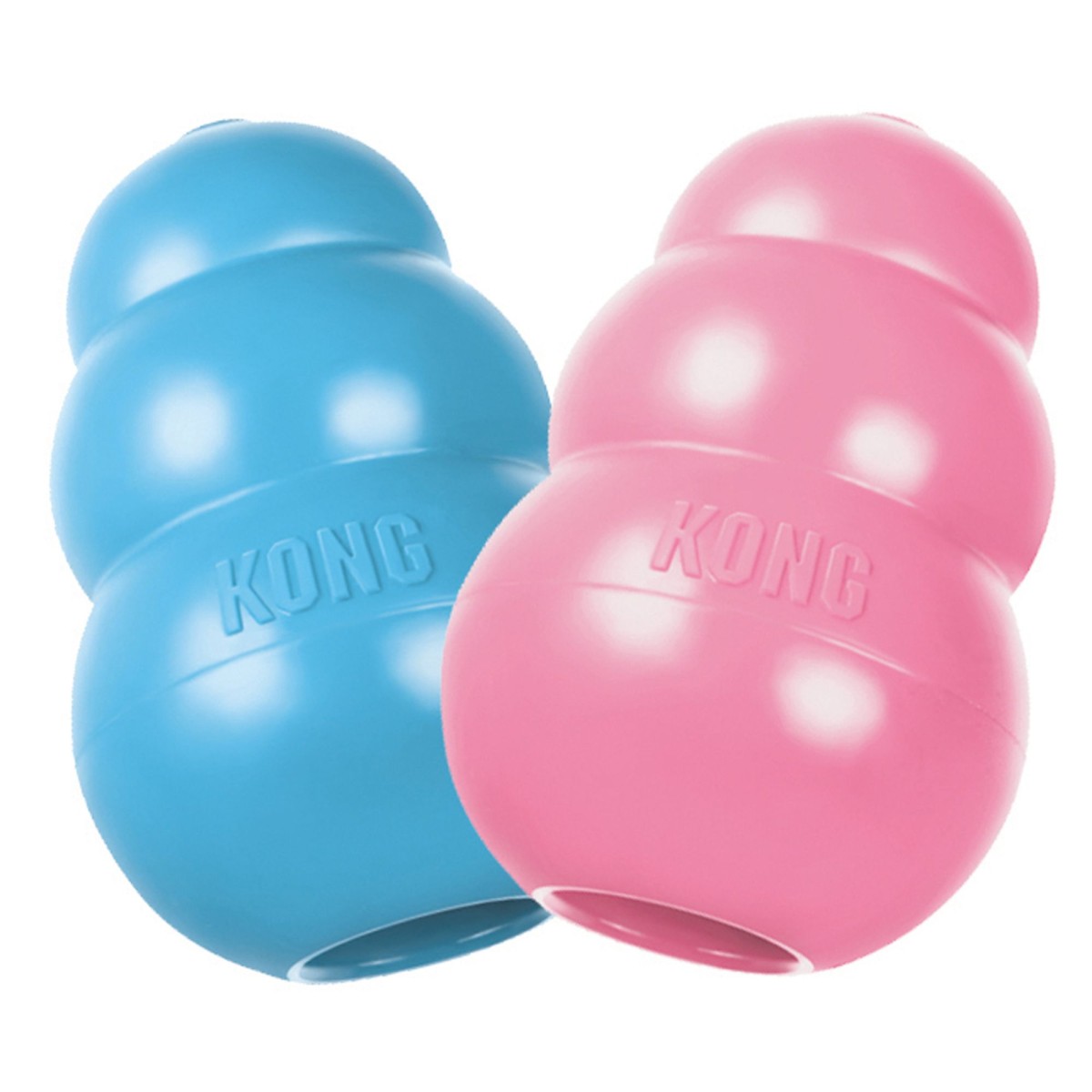 Kong Puppy Dog Toy
It's a classic, and there's a good reason for it. Designed with softer rubber than the traditional Kong toy, the Kong Puppy Dog Toy is ideal for a puppy's sensitive teeth and gums. Highly durable, this toy will stand up to intense puppy chewing. Versatility is a plus with this Kong toy as it can be stuffed with treats, used as a bouncy fetch toy, and filled up with water or peanut butter (no xylitol!) to serve as a cold chew toy for your puppy's sore gums.
Pet parent feedback: "My puppy loves this! He's a shih tzu and he's 3 months old and I got him size small. It's the perfect size for him and he can't get enough of it. Bounces very well on the floor for extra fun!" – Nina
For the brainiacs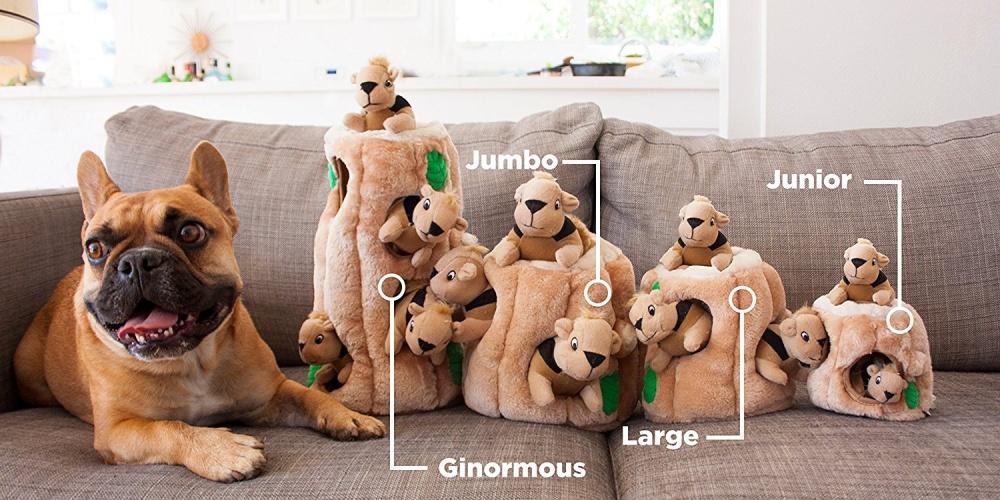 Outward Hound Hide A Squirrel Squeaky Puzzle Dog Toy
Puppies need to exercise their brains as much as their bodies. That's why the Outward Hound Hide A Squirrel Squeaky Puzzle Dog Toy is the perfect toy to keep your puppy guessing with a variety of sounds, shapes, and textures. Available in four sizes, this toy lets your puppy play hide-and-seek once you've stuffed the squirrel toys into the tree trunk. Although the stuffed toys are durable, they may not be ideal for strong chewers.
Pet parent feedback: "Very cute and loved by my pup! An adorable toy that provides exactly the kind of puzzle fun for my pup I bought it for. Not heavy duty, so I wouldn't recommend it for heavy chewers." – Kerr
For puppies on the move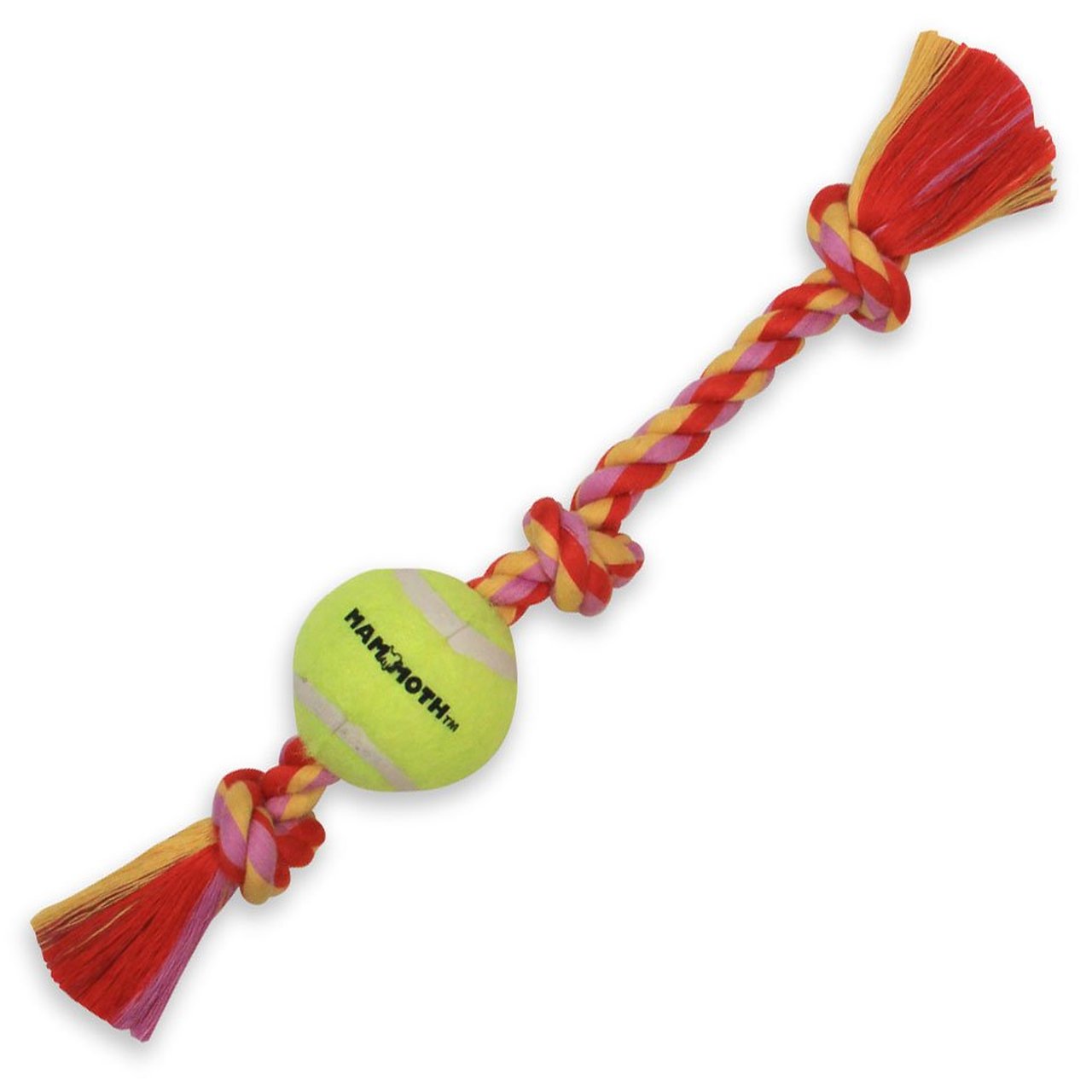 Mammoth Color 3 Knot Rope Tug with Tennis Ball
If you have a puppy who is in constant motion, consider buying her an interactive toy like the Mammoth Color 3 Knot Rope Tug with Tennis Ball. Not only can your puppy amuse herself with this toy — chewing, tossing, and chewing some more — but you or another dog can participate by playing fetch or tug-of-war with her, too. Available in mini and medium sizes, this knot rope toy is made with durable 100% cotton denim rope fibers that massage your puppy's gums and clean her teeth.
Pet parent feedback: "Loves to play tug of war with it and it is sturdy for our young pup. Great for kids to play with the dog." – Libra
For puppies who need a fuzzy friend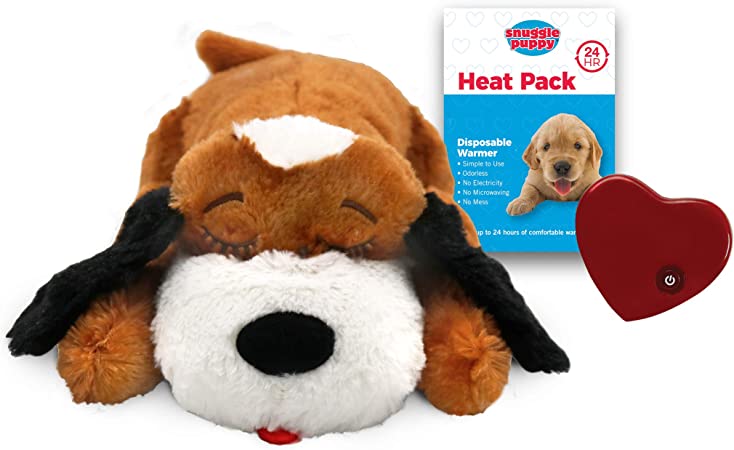 Smart Pet Love Snuggle Puppy Behavioral Aid Dog Toy
If your puppy is going through some separation anxiety or if you're in the midst of crate training her, don't overlook the Smart Pet Love Snuggle Puppy Behavioral Aid Dog Toy. This stuffed friend isn't your typical fuzzy animal toy. The Smart Pet Love Snuggle Puppy helps your puppy handle daily stresses by mimicking the warmth and companionship of the puppy's former littermates. Additionally, this toy includes a simulated, pulsing heartbeat sound and heat source to calm your puppy down naturally. The stuffed dog toy comes in multiple breed types and batteries are included.
Pet parent feedback: "I could barely believe how well this cuddle buddy works for consoling my puppy when I have to be away from her. She nested right up to it. I can tell the sound and feeling of the heart beat really soothes her. I wouldn't want to have a puppy without one of these to get them through crate time. So much more humane than just letting them cry it out. I check on her by camera when I'm out and see her fuss for a few minutes, then settle down and sleep for how ever long I need to be gone. I can't recommend this enough!" – Lissi
For puppies who love the squeakers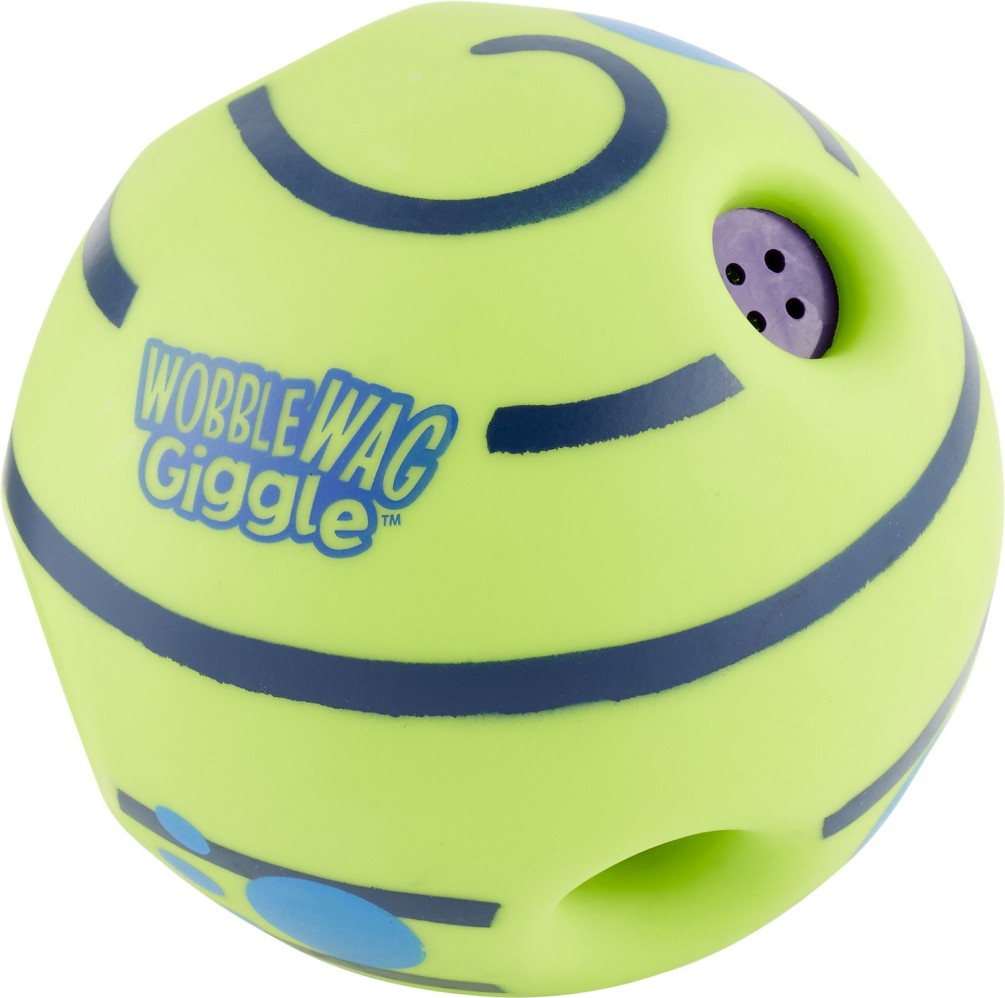 As Seen on TV Wobble Wag Giggle Ball Squeaky Toy
There are puppies who love squeaker toys, and then there are puppies that love loud squeaker toys. If you want to keep your puppy entertained and don't mind a toy that makes loud noises, check out the As Seen on TV Wobble Wag Giggle Ball Squeaky Toy. Designed to peak your puppy's curiosity and stimulate play, the Wobble Wag ball has three tubes inside it that make "giggling" sounds when the ball rolls around. It's the perfect, durable toy to keep your puppy happy and your house filled with sound.
Pet parent feedback: "This toy is awesome. I do have to say that it is noisy, so if you need quiet, this is not the toy for you. But I don't need absolute quiet, so this works great! My pup loves to kick it around and bark at it as it makes its funny noises. It's super durable as well. She'll bring it to me to toss, and it bounces off the floor and baseboards, as well as down the stairs, and still makes its normal noises. It does have some gouges and teeth marks, even though it's not a chewing toy, because my pup is definitely a super-chewer, demolishing all stuffy toys and cutting Nylabones lives in half. But this has withstood her! She loves this! It's super cute to watch her play with it as well." – DogBed
Spoil your puppy because she deserves it
Puppyhood is such a short time in the big scheme of things, so spoil your puppy while she's still young. Get her toys that make noise, bounce, fly through the air, and keep her mentally and physically happy. Always supervise your puppy when she plays with her toys, and enjoy your time with her while she's small. They grow up so fast!
References: