There's a lot of debate out there about whether a pet insurance policy is a worthwhile investment. At Pet Insurance Review, we offer information on the benefits of pet insurance and how to get quote for your pet. Sometimes, though, it helps to read testimonials from real pet parents whose pet insurance policies helped their pet's well-being as well as the family finances.
Our True Petventures blog feature focuses on pet parents sharing their experiences with pet insurance. Today's feature comes from Kelly Rozsa and her French Bulldog, Bane.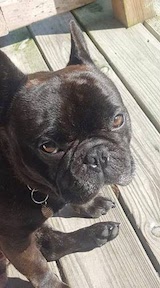 "I was so excited last year, when my employer began offering this additional benefit! I am a savage fur momma, so of course I took advantage of it.
My husband and I have an almost 5 year old French Bulldog, named Bane, who in March 2019 went in for a check-up. We were initially concerned, as his breath was terrible, so we thought he just needed a simple dental cleaning.
His primary veterinarian checked him out, and found a large lump in his lower left jaw. She thought it was an infection in his tooth, and prescribed antibiotics, and sent us to a specialist for further advise.
It was then that we met Dr. Ruth Bartell, a nationally renowned veterinary dentist. How fortunate we were to have her fairly close to us, because she was AWESOME!
We took Bane to her office for consultation. She examined him, and determined that he would need to have an x-ray to see the severity of the infection, but would need to be sedated for this procedure. We were petrified… Bane is our CHILD, and Frenchies are historically known for having breathing issues, so the thought of this was scary!
We scheduled the appointment for the following week. When Bane was under anesthesia, Dr Bartell found that where the lump was located he had four unerupted teeth. One tooth had abscessed and created a cyst and infection.
French Bulldogs have flat faces, so there isn't much room for teeth, and these four teeth simply had nowhere to go. She had apprehensions with this because Bane's mouth is so small. The infection had also damaged his actual jaw bone, and she was afraid that even with the slightest amount of pressure his jaw would break… and that would be devastating!
The veterinarian did her best work that day, removed the four teeth, and  cleared the infection in the jaw bone as well. Bane also got a cleaning for all his other healthy teeth. We were sent home with more antibiotics, pain medicine, advise to switch to soft food for at least three weeks, and a follow up appointment was scheduled for three weeks later.
When we went back to Dr. Bartell, she was beyond happy with the results she found. The incisions where she had removed the teeth and infection were smooth lines, and the lump was gone!
All is well in the Rozsa house these days. Bane will go back and see Dr. Bartell again once all this COVID19 madness is over for a regular cleaning. Needless to say, he still eats soft food!
Thanks for the opportunity to tell our story! The total of all of his visits & procedures was nearly $2500! Our pet insurance policy covered 90% after deductible. We are so grateful for this, as without it, we would have been in financial stress."
The Rozsa family was able to get Bane the medical help he needed without worrying about what they could or couldn't afford. No pet parent wants to be in the position of choosing between giving their dog or cat the care they need and wondering how they will pay their other household bills next month. A pet insurance policy can let you worry about your immediate concern — your fur baby — and not the anxieties about financial unknowns.
Thank you, Kelly, for sharing Bane's story. We're so happy he has recovered and is enjoying being spoiled with soft food.
Don't have pet insurance yet? Get a quote here to find affordable options for you and your pet.
Do you have a True Petventure to share about your dog or cat and pet insurance? Join our email list and share your story in the space provided. If possible, please include a high-resolution photo of your cat or dog. Your pet's story may be featured in a future True Petventure blog.