Pet Wellness Guides > 6 Products to Keep Your Dog Cool this Summer
6 Products to Keep Your Dog Cool This Summer
Posted: 05/02/2022 | BY: Erin Cain | Categories:
Many people look forward to summer activities with their families, canine companions included. Unfortunately, spending time in the heat can be dangerous for dogs, especially puppies, seniors, and certain breeds. Thankfully, there are many steps you can take to make the summertime easier for your pup and more fun, too. Check out these six Chewy products and keep your dog cool and safe this summer.
1. If your dog loves to swim — or even if he just likes to hop in and out of the water or splash around a bit — a collapsible pet pool is a low-maintenance way to keep your pup cool and happy. Easy to open and close up, this pool comes with a carrying case and doesn't require any inflation. All you need to do is open it up, fill it with water, and let your good dog swim and splash to his heart's content.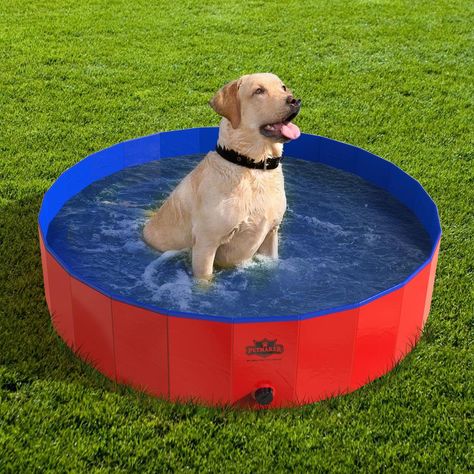 User recommendation: "This doggie pool was so easy to get ready. Just open the box and unfold it! It was that easy and perfect for my little puppy. She uses it as a large drinking bowl too. Jumps in it just to get a drink. I'm very pleased with this pool." – OakelyPup
2. Maybe your dog likes to lie around during the summer. After all, the heat gets to the best of us, doesn't it? If you have an older dog, or own a bracypheliac breed like a Boston terrier or French bulldog, moving and breathing in the heat can be too difficult and even life-threatening. That's why a self-cooling dog pad can be an ideal solution to handle the heat.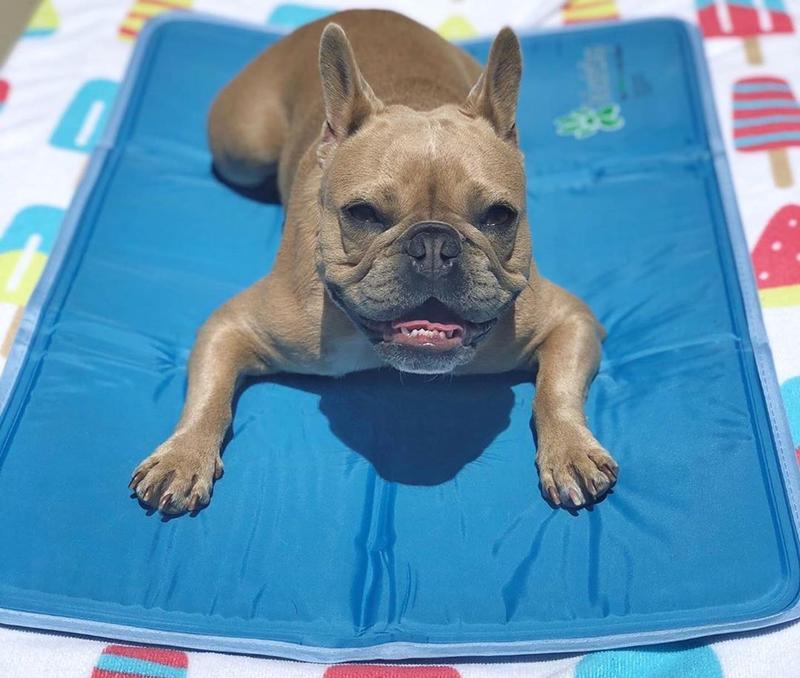 Available in different sizes and perfect for crates and beds, this self-cooling pad is non-toxic, weight-activated, and provides a cooling effect for up to four hours. Put a smile on your dog's face, and keep him cool all day long.
User recommendation: "The littlest pug approves! His brother isn't so sure about them, but the smaller pug has no problem taking over his brother's cooling pad. We got these to help keep our boys cool this summer. The little pug has a small nose so he's prone to get hot quick. You can actually feel the cooling on his body after laying on the pads. It stops the panting almost immediately. I just wish I got a larger size. Also, I had bought the covers for these, but the little pug wasn't a fan and peed on it. Once I removed the cover to wash it, the little pug decided he approved." – Pugmomof2
3. Do you own a dog who loves to chew anything and everything? Maybe you have a puppy who is teething or your dog has an achy tooth. What's worse than aching teeth and high temperatures? Not much. Help your dog out by giving him a toy that will keep him cool, soothe his teeth, and satisfy his need to chew. A cool teething stick chew toy is the perfect pup-pleaser for dogs of all life stages.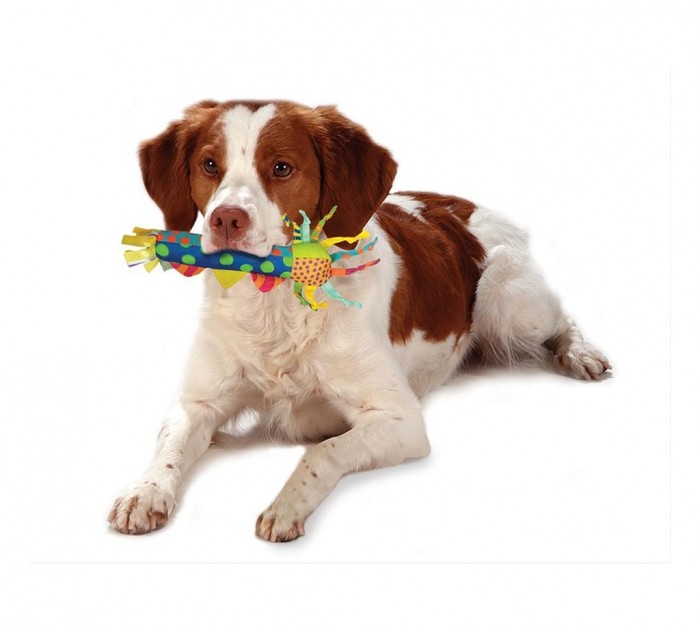 Just toss this toy in the freezer for a bit, then bring it out and let him chew away! This toy numbs tooth discomfort and reduces gum swelling. It is mold-resistant, easy to wash, and has multiple textures to keep even the toughest chewers happy.
User recommendation: "My Bullmastiff puppy loves it frozen, or dry. She chews on it a lot. I bought a second one so I could freeze one while she played with the other. Surprised that with all the chewing and her strength, it is fully intact." – Karen65
4. Want to keep your dog cool on the go? Consider giving him a dog cooling aqua vest to keep him refreshed no matter how hot and humid it is outside. Available in 12 and 16-inch lengths, the vest works wonders for senior dogs and dogs who have trouble handling the heat.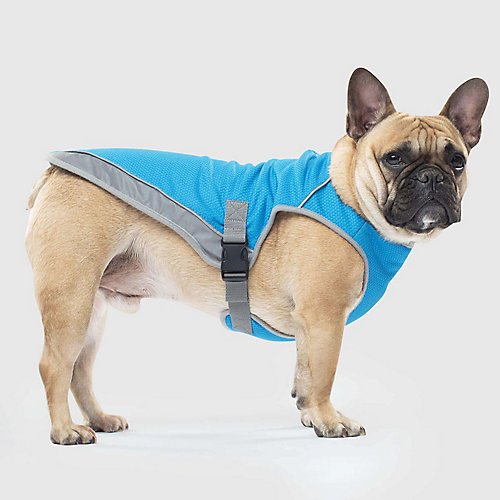 Simply add water to the vest and let the evaporation cooling effect work its magic on your pup. An adjustable chest girth allows you to make sure the vest fits your dog just right, and the vest's mesh layers promote fluid air circulation. The vest doesn't contain chemical coolants, so it is non-toxic and safe for your pup. The vest has a slit to attach a leash to if you want to show off your dog's new vest to the neighborhood.
User recommendation: "My all black GSD gets so hot on summer walks, so I thought I would try this. We've only had one 90 degree day so far, so she has only used it once but it kept her cool. I was surprised that it holds water between the layers for a very long time, so the cooling lasts for quite a while. Also, love the color." – Janice
5. Hydration is a must for every dog during the hot summer months. What better way to encourage your dog to drink more water than by serving it in a cooling water bowl? Not all water bowls are created equal, and a cooling water bowl is an inexpensive way to help keep your dog comfortable and hydrated during the summer.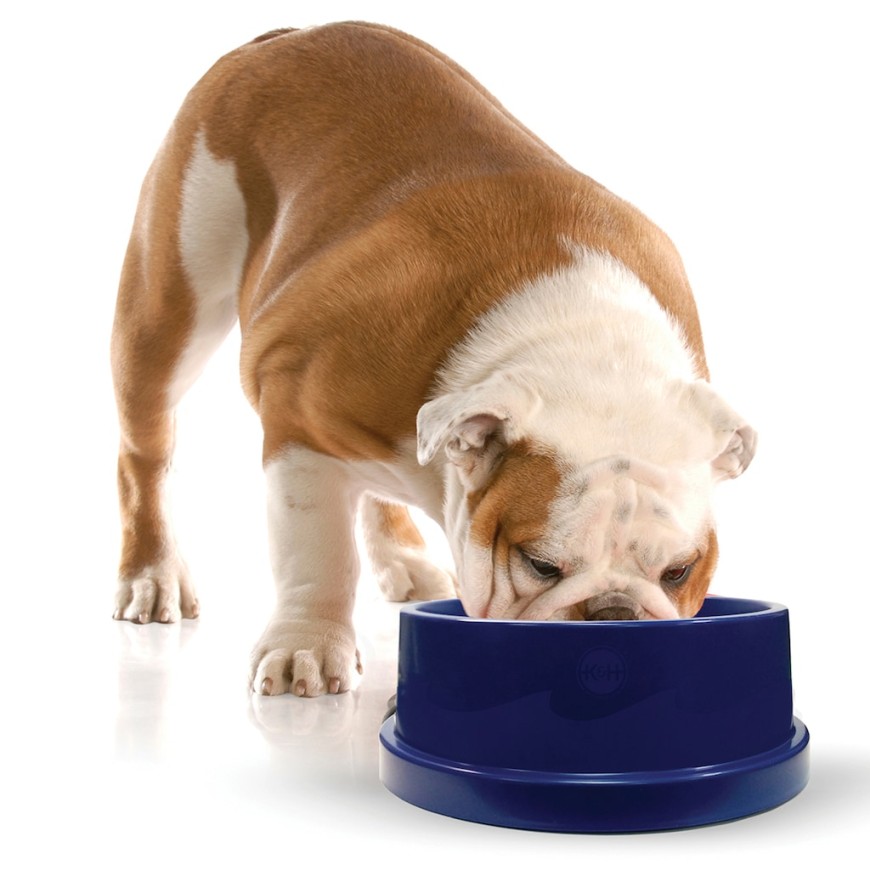 This bowl has double-walled insulation and an inner gel core that keeps water cool and refreshing for up to 15 hours. Made of non-toxic materials, simply fill the inner gel core with water and place in the freezer overnight. For indoor and outdoor use, you can easily pack this bowl for road trips and vacations with your pup.
User recommendation: "I immediately put water in the inside and placed it in the freezer for the night. In the morning, I put it outside so the dogs could have fresh cold water after their walk. When we returned, it was still cold and they loved drinking from it. By the afternoon, I took them out for potty breaks and it was still cold. I bought one for inside and they love it. Great product and price." – JaJa
6. Do you and your pup live near a pond, lake. or beach? Or do you own a pool? Maybe your dog is lukewarm about hanging out in the water. Make the water and its natural cooling techniques more attractive to your dog with a waterproof squeak ball toy. Durable with a built-in squeaker, this ball will be hard for your dog to resist when you toss it into the water. Weatherproof and water resistant, you can bring this toy on whatever adventures you and your dog enjoy.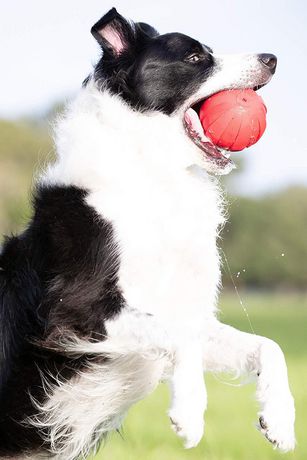 The squeak ball toy is non-toxic and BPA-free with a grip-friendly texture you and your dog will appreciate.
User recommendation: "I have an 8 month old Australian Shepherd who is obsessed with this ball. She wants to play with this ball 24/7, 365 and it rarely ever leaves her side. This ball works great for fetch, and also in the water as she loves swimming. She also loves that it squeaks! I'd recommend to anyone who has a pooch that loves fetch toys this will be their favorite!" – Ash998877
No matter what you use to keep your dog happy and healthy this summer, keep the focus on your pup's safety and comfort in the heat. Even the best of cooling products can't prevent heatstroke or heat-related exhaustion, so if your dog is struggling with the high temperatures, contact your veterinarian for assistance. Need pet insurance to help you cover those vet bills? Get a quote for your pup here.
Summer will be over all too soon, but with the right products and loving care, you can enjoy each remaining sunny day with your dog knowing he will be cool, comfortable, and happy.