Pet Wellness Guides > New Pet Insurance Comparison Tool | Pet Insurance Review
COMPARING PET INSURANCE JUST GOT EASIER!
Posted: 02/13/2023 | BY: Content Writer | Categories:
We are delighted to announce that our new quote comparison tool is live and kicking!
As part of our service we are committed to making it as easy as possible for you to compare pet health insurance quotes and policies, and choose the right product for you and your pet. We have been working with our pet insurer partners to produce a quote results page that enables you to compare quotes and policy benefits from all the leading pet insurers in one place – and it is finally live!
We currently have 7 leading insurance brands delivering quotes onto our site and several more brands will be joining soon. Now it is easier than ever to see exactly what each policy offers, compare benefits and prices, and get multiple quotes so you can find the perfect policy for you and your pet.
How it works
When you complete our quote form we fetch the best possible coverage quotes from each of our 7 brands (Petplan, Pets Best, Trupanion, ASPCA Pet Health Insurance, Hartville, Pet First and Nationwide) and present them to you on one page.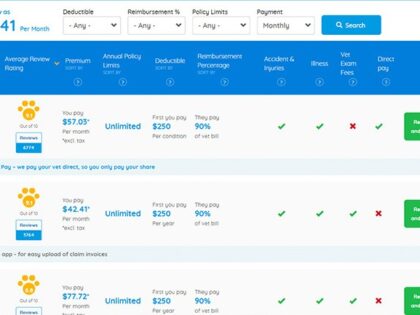 When you click "Read more and Buy Now" you can see all the policy inclusions and exclusions summarized on easy-to-read information tabs, and decide which coverage is right for you. Some policies cover vet exam fees, some don't. Some cover pre-existing conditions or hereditary conditions, some don't. Some polices cover accidents and illnesses while some cheaper options only cover accidents, so we've included all the information on the tabs so you can make sure you know exactly what coverage you are buying.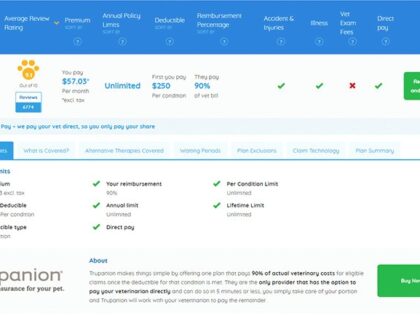 See customized quotes just for you
If you want to consider a customized quote with a higher deductible, lower reimbursement rate or lower cost, just use the filter at the top of the page and we will fetch all possible policy options that meet your criteria. You can do this as often as you want to, until you find the combination of coverage and cost that is right for you and your pet. We will also save your quotes for you, so if you need to come back later to buy, you can.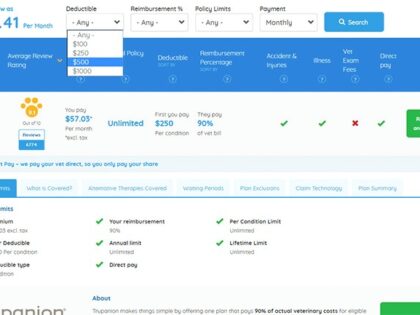 Once you have made your choice, just click the "buy now" button and we will take you to your chosen insurers site to add any additional pets and buy your policy. And for every policy bought through our site we will make a donation to our animal welfare charity partners, so not only are you protecting your best friend, but helping less fortunate animals too.