Finding someone to care for Fido as much as you do can be a nerve-racking process because you want your pet to be comfortable and safe while you are away. While boarding your pet is a great option, some pets can get very overwhelmed in a place with other barking dogs or if they are contained in a caged area. Because of this, pet sitting apps have become an alternative solution with options like pet sitting in your own home, pet sitting in someone else's home, and dog walking, and more.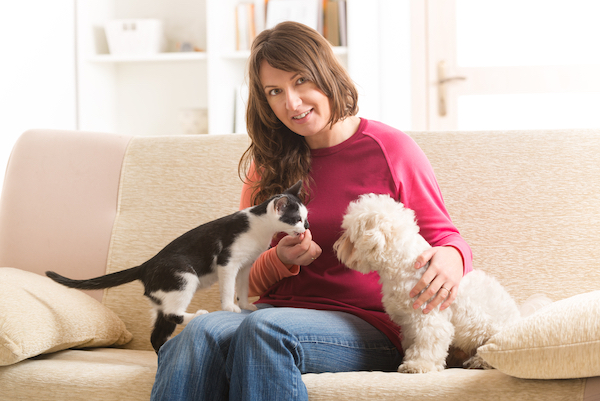 How do pet care apps work?
These trusted apps allow you to book a service, monitor the service throughout via the app, and it handles background checks beforehand. As you search for a pet service provider, you can read reviews from other pet owners, and meet the person ahead of time to feel good about their service.
Why are they useful?
Using a pet sitter from an app is comforting to know that your pet will get lots of love and individual attention, and you can expect photos and daily updates to know your pet is living its best life.
For many people, including me, some pets are most comfortable staying in their own home and having a house sitter stay with them. There have been tragic incidents of dogs getting lost in strange neighborhoods, but having someone stay at your house can be a solution to this. My dogs have a pet door with a yard they are familiar with, and I feel most comfortable with them staying there.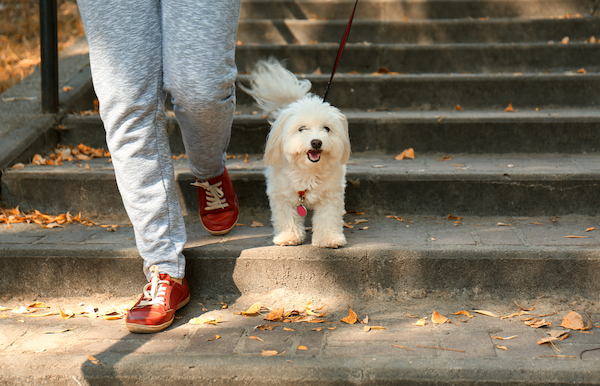 There are also options for your pet to stay at a sitter's home. This is a great scenario for a lot of pet owners who don't want their pet secluded to a caged area when boarded. Your pet will receive full attention like a vacation for your pet in someone's home.
If your pet has special needs, opting for one of these pet sitting solutions can be a lifesaver. You can talk to the person ahead of time and explain your pet's needs, and feel confident about the situation. Sometimes life happens last minute and you need a pet sitter in a crutch. These apps can be a great solution for that as well.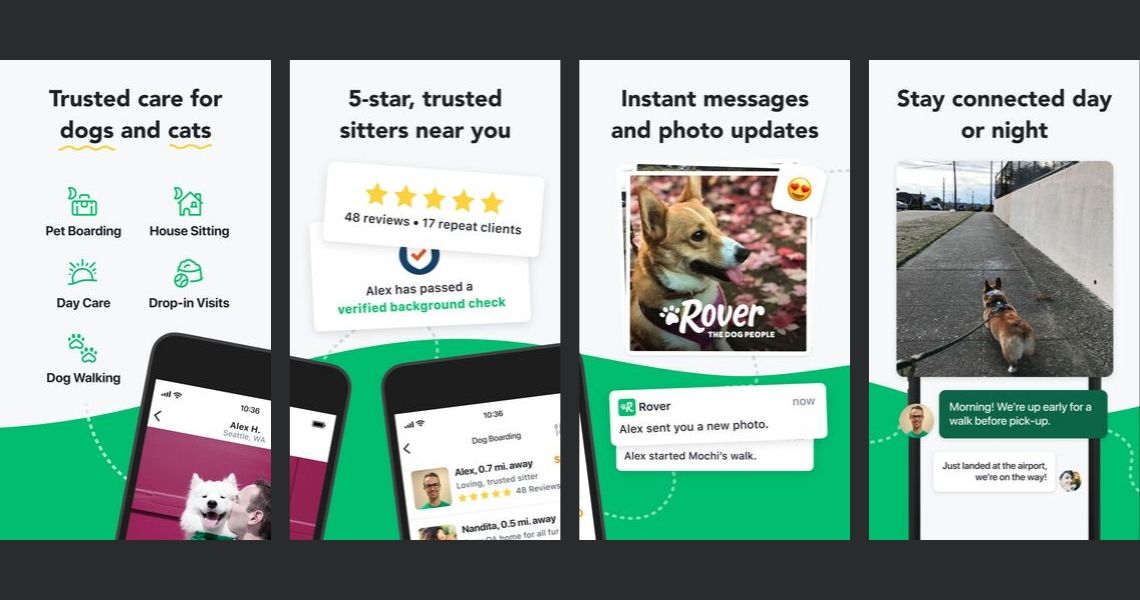 Here are the most popular pet-sitting apps for 2021:
Rover is a trusted pet service application that boasts having 95% of reviewed services receiving a perfect 5-star review. With 200,000 pet sitters across the US and Canada, you can easily find someone in your area even last minute. Their services are backed by insurance, 24/7 support, and reservation guarantees. The services they offer include pet sitting in their home, house sitting in your home, drop-in visits for when you have long days at work, dog walking services, and even grooming services. Their app is easy to use and allows you to search services filtered by obvious things like dates, but also whether or not they have a fenced-in yard, if they are a non-smoker, if they have children, and even if they allow pets on the couch. You can easily use the map view to find someone down the street too.
Wag is a top-rated app that I personally saw a lot of people using for dog walking services. In busy apartments downtown there are lockboxes with Wag stickers on them for dog walkers to easily access their client's apartments to take Fido on a walk. Then using GPS tracking, you can see where your dog walker and dog are going, and even get notifications if they use the bathroom. Their app allows for easy communication with your service provider. Wag offers dog walking, pet sitting, pet boarding, pet training, drop-in visits, and even vet advice. Another great thing about Wag is they donate a portion of your proceeds to feed pets in your area.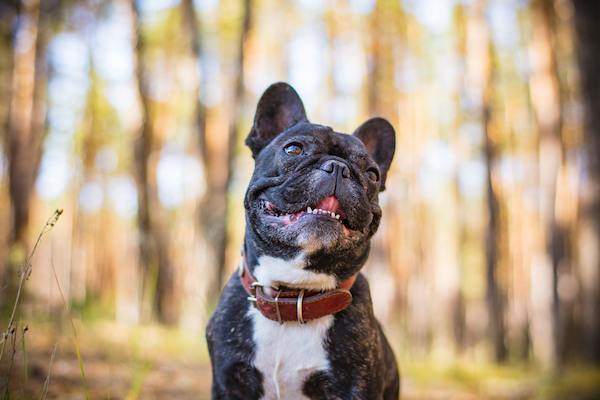 The great thing about Care is that it is more than just pet-focused, which is a great option if you are looking for someone to watch your pets and water your garden. The services they offer include child care, pet care, housekeeping, senior care, special needs, and tutoring. For people with a lot of animals beyond dogs and cats, Care comes highly recommended because you can find someone who will fit your specific needs. To use, you would create a job posting, and caregivers can reply if they are interested. You can then interview them and find the best fit for whatever services you are needing. There is also a subscription option, which makes long-term affordable care possible.
There are so many things to take into consideration when looking for a pet sitter. You need someone who will both love and care for your pup or kitty as if they were their own, as well as be available at a moment's notice. Of course, they also need to be experienced with and love being around pets! That's why Fetch! Pet Care offers the most flexible options for pet parents who need capable pet sitters with the ability to be available, even on short notice. Fetch! Pet Care vets all its sitters, ensuring that their employees pass a background check, a challenging interview process, and can prove they are insured and bonded. A free in-home consultation is available so pet parents can meet the pet sitter before their first service to be sure that it's a good fit.
Fetch! Pet Care offers flexible scheduling with easy cancellation policies, room for last-minute requests, and schedule changes. Pet parents receive detailed updates with videos and pictures, so they can see how their pet is doing. Other services that this provider offers include: dog walking, puppy sitting, overnight pet care, medical administration, and pet taxi.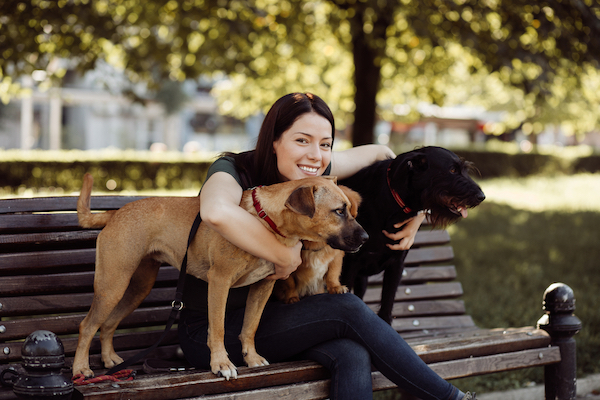 While Camp Bow Wow may be best known for its franchise doggie day cares, the company also offers an extensive in-home pet care service for pet parents and their furkids. When you need a pet sitter, it is important to find someone who will give your furry friend the love and attention they deserve, and this provider is committed to the care and happiness of your pets. What causes Camp Bow Wow to stand out from its competitors is its certified and trained sitters who can provide excellent medication administration and post surgery assistance to any pet, from seniors to puppies and kittens. The caretakers are bonded, insured, and all are certified for pet first aid and CPR.
Aside from pet sitting, Camp Bow Wow employees are available for overnight stays, vacation visits, and dog walks. They'll even take care of your pup's waste and doggie bags!
Just in case of accidents, it is always a smart idea to have dog insurance for your best friend! You can check rates or Get A Quote today!
Disclaimer
The information contained on this blog is intended for informational and educational purposes only and should not be construed as medical advice. It is not a substitute for professional veterinary care. Always consult with your veterinarian before making any changes to your pet's health care or treatment plan.
The authors of this blog are not veterinarians and do not claim to be experts in pet health. The information provided here is based on our own experiences and research, as well as information from reputable sources. However, we cannot guarantee the accuracy or completeness of this information.
We encourage you to do your own research and consult with your veterinarian before making any decisions about your pet's health.