Best Pet Insurance in Indiana 2023
Pet insurance in Indiana is surprisingly affordable, and it helps to ensure that if the worst should happen, your furry friend can get the treatment they need.
Why Pet Insurance in Indiana is Important
In the picturesque state of Indiana, pets are an integral part of our families, providing boundless joy and companionship.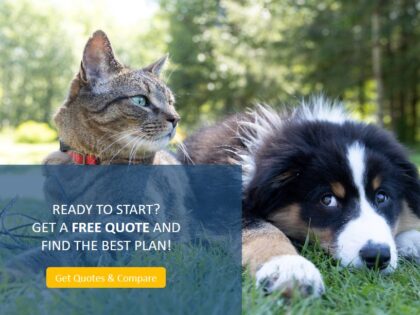 But, with 1 out of 3 pets needing emergency vet care in their lifetime, many pet parents live with constant stress, wondering if they can afford treatment should something happen. And that's where pet insurance becomes crucial. Pet insurance in Indiana is surprisingly affordable and helps ensure your fur baby gets the care they need should an unexpected accident or illness occur.
How to Choose the Best Pet Insurance in Indiana
Vet bills are expensive, and 80% of pet parents say they could not afford a $5,000 vet bill if the worst happened. Having pet insurance in Indiana is the best way to protect your pet against injury, illness, and other emergencies. With some plans paying up to 90% of the vet bills, insuring your pet is one of the most important investments you can make. 
But how do you choose a pet insurance policy that's right for you? That's where we come in. Pet Insurance Review is an unbiased source of information to help you make the best financial decision for your family. We compare prices from pet insurance providers across the state that have proven track records for quality coverage and a willingness to stand by pet parents when they need help. 
But perhaps even more important, we have collected over 150,000 honest reviews of pet insurance providers from pet parents just like you. We use these reviews to rank the top companies in the marketplace. This makes it incredibly easy to find a reputable company with a proven track record of exceptional customer service.
How Much is Pet Insurance in Indiana?
Cost of pet insurance coverage in Indiana will vary based on a few different factors. Your specific location and zip code definitely comes into play. Those pet parents residing in a big city in Indiana will likely pay more than those in a smaller, rural area. 
The age of your pet will also impact your monthly premiums. Like older people, older pets tend to have more health issues that require more medical care. That's why it's always a good idea to enroll your fur baby when they are young and healthy as you'll get the lowest rate possible.
And finally, your fur baby's breed and species will also impact price. Dogs will usually cost a bit more than cats to insure, and certain breeds of dog with certain hereditary conditions may cost even more.
To give you a general idea of how much it costs to insure dogs and cats in Indiana, take a look at the following charts:
Most popular dog breeds insured in Indiana

| Breed | Average Monthly Cost |
| --- | --- |
| Australian Shepherd - miniature | $27.42 |
| Other Mixed Breed | $75.24 |
| Golden Retriever | $53.61 |
| Dachshund | $73.06 |
| Shih Tzu | $47.86 |
| Labrador Retriever (Chocolate) | $130.70 |
| English Bulldog | $39.03 |
| American Pit Bull Terrier | $90.25 |
Data source date 60 days, based on user selected percentage
Most popular cat breeds insured in Indiana

| Breed | Average Monthly Cost |
| --- | --- |
| Scottish Fold Mix | $32.91 |
| Maine Coon Mix | $8.55 |
| Domestic Shorthair Mix | $30.70 |
| Domestic Medium Hair Mix | $11.98 |
Data source date 60 days, based on user selected percentage

The best pet insurance in Indiana really comes down to a policy you can comfortably afford with a provider who has a history of taking excellent care of their customers. We hope to help you find just that!
Our Pet Parents reviews
Amazing Claim Service
I have worked in claims many years and have never found a company with such quick turnaround on a claim. I needed clarification on a point and the claim representative was cheerful and well informed.
Peace of Mind
When an unexpected emergency came up with my cat, I immediately rushed her for emergency care. I have had pet insurance for awhile now but this was my first claim, so I was a bit nervous not knowing what to expect. The claim form was easy to complete and the entire process was completed in a timel...
Thank you for making this easier
From the time we submitted our claim to payment the communication was timely and kind. Thank you!
Fetch has gone from bad dream to nightmare
I purchased insurance for my new puppy from Petplan pet insurance. It was simple to use and they resolved my one issue quickly. Then they became Fetch by the Dodo, and I have indeed had to fetch for any assistance and feel like a dodo. Trying to submit a claim or even just log in to my account has b...
Figo is awesome! Give them a chance!
I've insured several of my dogs with Figo all the way back to 2018. My dog Thor has been on Figo Pet Insurance since I adopted him in November of 2019. My experiences have all been positive. Filing claims is super easy and you can check the status of your claim on the Figo/Pet Cloud app. Customer se...
Easy to use
Very friendly and helpful customer service. Good communication. Using their app is the easiest way to submit claim
Best Experience I've Ever Had With an Insurance Company
Anyone who knows Corgi's, knows they can be a bit high maintenance. Ear infections, swallowing objects, orthopedic issues, allergies, you name it. Our Corgi Cash is doing great, but has had some significant medical issues over the past several years. Each time I have submitted a claim to Healthy Paw...
Super easy process. No hassle at all.
We had over $1000 in vet bills for our cat Tummy and had to make a claim with Lemonade for the first time. Their chat assistant made it super easy and quick to add all the relevant info necessary. After the initial claim, it took a bit of time, but there were no issues that really needed me to work...
Cat eats silicone bread wrapper tie
My cat ate part of a silicone bread wrapper tie shaped like a cat with a tail. He ate the head. I had thoughtlessly left a loaf of bread on the kitchen counter and he got to it! After a few days, he became sick. I took him to VCA and then to Care hospital. He had surgery to remove the silicone...
Pet Insurance
I was not sure if I chose the right insurance Company for pet insurance. I was a little skeptical. My dog got sick and I had to take him to urgent care, it was not cheap. Submitting the claim online was so easy and it was approved in no time. I am very happy with it and will stay with Metlife. Tha...
Nationwide has saved my dogs life
If you are looking at getting insurance. Look no further. Nationwide has been the best insurance and best decision I could have made for my English bulldogs life. The claims are easy to submit and I couldn't be happier.
Fast and Easy
Impressed with the ease of submitting my claim. Customer service was very helpful guiding me through the claim steps! Highly recommended
Arshy Torres
Excelente!!!
Easy and fast claim process
I have filed several claims throughout my dog's cancer treatment. It's super easy to file online or through the app. You answer a couple of questions and upload a receipt. They give you a timeframe of 5 weeks for the claim but it's usually faster than that. All my claims (between July and Novemb...
Excellent support and service
My beloved kitty soul mate, Keester, became suddenly ill and required emergency and ICU care which, unfortunately, didn't work out and the only humane option was euthanasia. He had developed acute renal failure and went downhill quickly. I was totally in shock losing Keester to kidney failure I wa...
Bivvy Insurance
This review is for Bivvy. They had the best prices, fastest turnaround, helpful on--line or on phone. So easy and quick filing claims on line, had my money within a couple days. Unfortunately, they went out of business which is so sad. When they closed they suggested using Spot. My insurance wi...
Pet insurance is a MUST
I've had Trupanion for YEARS. My first experience was with my little Maggie. I used them a little but was really glad I had insurance. Next came Sasha, my Wire Hair Fox Terrier. She had many physical problems including several surgeries. Trupanion was WONDERFUL. They covered 90% of all procedu...