Pet Wellness Guides > Tips for Finding a Missing Pet - Pet Insurance Review
Tips for Finding a Missing Pet
Posted: 04/25/2022 | BY: Erin Cain | Categories:
Every year, millions of pets go missing. Some are found and returned to their owners, while others remain lost forever. If you've ever had a pet that went missing, then you know the true terror that comes with knowing your furry friend is out there somewhere on their own. According to the American Animal Hospital Association (AAHA), one in three pets gets lost during their lives. While no one wants to think about losing their pet, it's wise to prepare for anything. Here are some simple steps to take to find your missing pet more easily.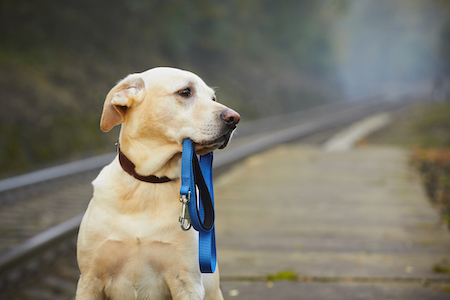 Search your neighborhood and your pet's last known location
Searching for your pet is an exercise in patience, but it will be worth the effort. When searching, make sure to call out your pet's name and look around in nearby hiding places, like under sheds, porches, cars, and garages. Sometimes lost pets will come back later when things are quieter at night. Carry some of your pet's favorite food or toy with you to lure them out of hiding. Bring a leash and collar, too, in case your pet's collar has fallen off. Drive or walk through your neighborhood daily as much as possible.
Cats and dogs differ from each other in how they react when separated from their home. Know what to look for when you are searching for your pet based on breed and temperament.
If you have a cat, be sure to search your neighborhood carefully. They can wander into someone else's basement or garage and get shut in accidentally.
Go to the place where your cat was lost at night or very early in the morning. Bring his favorite food and a flashlight, and call his name frequently. Try these steps repeatedly if necessary.
Use a humane trap in the location where your cat was last seen. Many indoor cats become fearful once they're outdoors, and it may take some time to coax them out of hiding. The smell of familiar, high-quality food or treats often does the trick to entice a cat into the trap.
Search the neighborhood or the spot your dog was lost thoroughly.
Go to the place where your pup last seen at night or early morning. Bring a flashlight and your dog's favorite treats or food. Call out your dog's name. Repeat this step as needed.
Talk with your neighbors
If you have a missing pet, it is essential to let as many people know about their disappearance. We recommend talking with your neighbors and sharing flyers or information that includes pictures if possible. Speak to mail carriers or delivery drivers who are in your community. They're often on foot throughout town all day long and might spot your pet before anyone else does.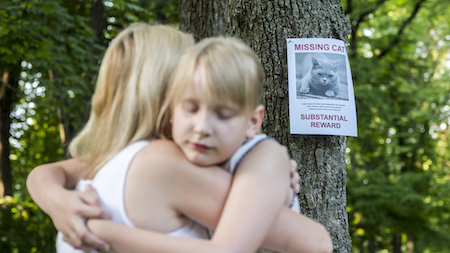 Create and distribute flyers with a current photo
You can post lost pet signs in your neighborhood and local businesses or community buildings like the library. Make sure it's a recent photograph of your missing pet. Include any pertinent information that might help someone search for and identify them! Include their name, breed color size, and markings. Printing these up in colors also helps make the sign stand out more, hopefully leading to quicker reunion with your dog or cat.
Post flyers at veterinary offices, traffic intersections, pet supply stores, grocery stores, corner stores, laundromats, barbershops, and other locations. Print the flyers on large, bright colored paper, and be sure to have a clear picture of your pet and your contact information.
Contact local animal control agency
When you're looking for your pet, it is important to contact the right agency. Many local governments have animal control departments that deal with this issue specifically and can help reunite owners with their missing pets in most cases. Often, this agency works with your local police department to locate and handle lost pets and stray animals. Keep in frequent contact with your local animal control officer so you can keep your pet's missing case fresh in their mind.
Reach out to local veterinarians and shelters
Sometimes, when people find a wandering animal, they drop them off at a nearby animal shelter, rescue, or even the closest veterinarian clinic. If you're missing a pet, contact local animal shelters within 15 miles of your home and file a lost pet report with each one. Check with local shelters and rescues every day; ideally, visit the local shelter in person if possible. Speak with veterinarian clinics in the area, and ask them to post your missing signs in their offices.
Put your social media community to work
With so many neighborhood pets lost and found, it is crucial to share information about your missing pet on social media immediately. If you have a current photo of them available, post their picture right away with a clear description in hopes someone will recognize them.
You can also search for local community groups on social media platforms that are focused just on missing animals in the area and ask for help there. Facebook has many lost and found pet groups, so look for a group for your town. Be sure to post your pet's missing notice there as well. Use all your social media accounts to notify your followers about your pet, especially for people who look specifically online for pets from their area who've been reported missing. Include helpful hashtags like #lostdog to help get the word out about your missing furkid.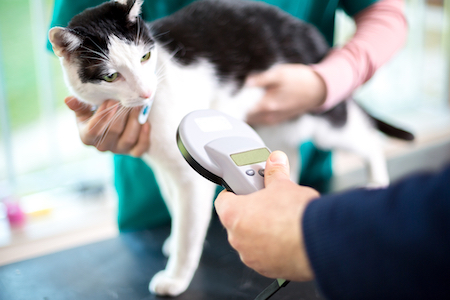 Call the microchip company
If you have a microchip for your pet, it's important to let the hosting company know your pet is lost. Many companies offer resources like 24-hour lost pet specialists who can guide you through the search process. A recent Ohio State study found that 73% of lost cats and dogs owners were found through the microchip registration process. Get your pup or kitty microchipped, and double check to make sure the information registered with the microchip company is current and accurate. Do the same with your pet's ID tag, too!
Don't chase your pet
It can be tempting to rush after your pet if you catch a glimpse of him loose on the street. Unfortunately, chasing a frightened pet will only make the situation worse and possibly, dangerous. Your dog or cat is an vital member of your family. The last thing you want to do to catch up with your pet would be chase after him. The chances are that he will run further away due to fear and the trauma of being on his own. Remind neighbors and friends to avoid the same behavior, no matter how excited they are to find your missing pet.
Instead, stay calm and quiet. To make your pet feel more at ease, try using a novel approach that will allow him to explore without fear. Instead of trying to trick your pet to come to you, sit down with your back turned and wait for them. Place some smelly and tasty food or treats nearby. This method arouses curiosity in a pet rather than fear. Once your pet has settled down next to you, quietly pet them and either pick them up, secure them in a carrier, or clip a leash to their collar.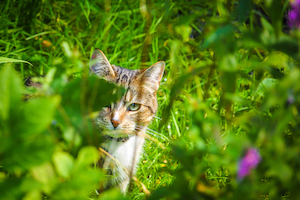 Protect your pet in every way possible
Losing a pet is a frightening and traumatic experience for pet parents and their families. However, you can take steps to make sure your pet is protected, whether he is outside on his own or by your side. Learn about pet insurance policies and the support a plan offers for a pet who wanders off and becomes injured or sick.
Emergency vet costs can quickly drain your bank savings, but a pet insurance plan can prevent that situation. Pet health insurance covers the price of your pet's medical care by reimbursing you the costs minus your deductible. Even better, many pet insurance providers offer separate riders to policies that provide wellness care coverage—including microchipping. Should your pet ever get lost, there's a better chance you have a happy reunion with your furbaby.
Need a pet insurance quote? Protect your dearest investment with a policy that covers your pet and gives you peace of mind. Pet Insurance Review will help you find the best coverage to protect your pet. Get your pet's free quote today!
References:
1. Bees Ferry Veterinary Hospital. (2019). Microchipping and Other Ways to Find Missing Pets. Retrieved from https://beesferry.com/blog/microchipping-and-other-ways-to-find-missing-pets/
2. Albrecht, K. (2021). Lost Cat Behavior. Retrieved from https://www.missinganimalresponse.com/lost-cat-behavior/
3. Albrecht, K. (2021) Lost Dog Behavior. Retrieved from https://www.missinganimalresponse.com/
4. Lord, L. (n.d.). The Microchip World: Recent Advances and Options for Shelters and Veterinarians. Retrieved from https://indoorpet.osu.edu/veterinarians/microchip