Pet Wellness Guides > The Perfect Holiday Activities for Pets - Pet Insurance Review
The Perfect Holiday Activities for Pets
Posted: 04/25/2022 | BY: Erin Cain | Categories:
It's that time of year again! Holiday activities are in full swing, and you're probably looking for a way to keep your pet occupied while you spend time with friends and family. While it's the season of giving, that doesn't mean you have to leave your pet out of all the fun seasonal festivities. We have compiled a list of fun holiday-related activities that are the best gift for your pet during this joyous time of year.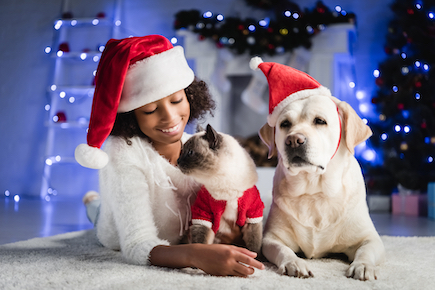 Bake some pawsome holiday treats.
Your cat or dog is too cute to watch you eat all those chocolate-covered fruits and treats, so this year why not have them join in on the fun? Get them some pet-friendly delights for Christmas, like edible doggy bones or a yummy peanut butter cookie. Even better, tap into your inner chef and make some pawsome pet treats for them! Try baking mini pumpkin pie dog treats or peanut butter pupcakes with your canine companion, or go with some holy mackerel treats or a carrot and catnip cookie for your finicky cat. With healthy treats, you can indulge your furry friend a little bit more during the winter holidays.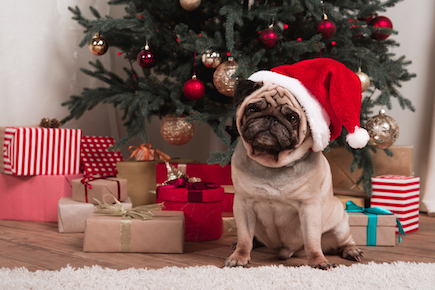 Snap some pictures with Santa.
What's cuter than an old-fashioned ugly sweater picture with Santa? One that includes your pet! It's the perfect picture for your family Christmas card or display at home. After all, there are few things more endearing than seeing your pet proudly wearing his Christmas holiday attire. Just make sure you practice getting your pup or cat to hold still and pose, so they'll turn out just right when it matters most. A pocketful of a high-quality treat should do the trick! Check your local social media posts or rescues and pet stores to see when Santa is scheduled to come to your town.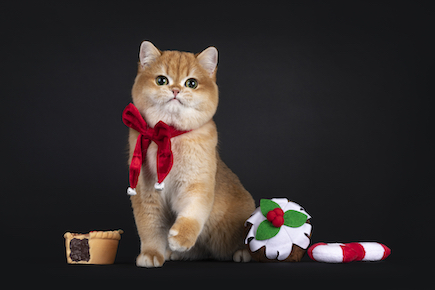 Make memories with pet-themed ornaments.
Create a lasting memory of your pet with a unique pet-themed ornament. This year, make and bake your own DIY salt dough ornaments of your pet's paw print. They're easy to create and can add a personal touch to your Christmas tree decorations this holiday season. If you'd rather use a pre-prepped pet ornament kit, it's easy to purchase one online or at your local pet store.
Of course, there are many other ornament options for your dogs and cats, such as a personalized dog bone or stocking and specific cat and dog breed decorations. Just make sure the ornaments are unbreakable, especially if your cat enjoys climbing the Christmas tree!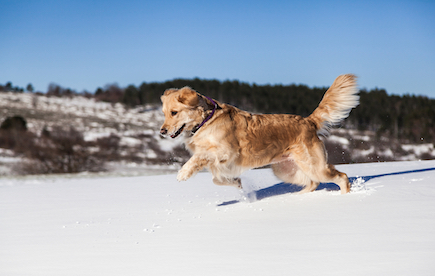 Romp in the snow.
Dogs (and some cats) are always ready for the Christmas season, and they know how to make it fun! The cold weather can be hard on people, but our pet friends will have us laughing and warm us up with their joyous attitudes.
The best way to keep your dog's spirits up during the Christmas holiday is by incorporating them into your favorite snow-related activities. Have a snowball fetching game in the backyard, or head out to hike nearby trails and that nature and enjoy its beautiful beauty together.
Your pet is going to love the chance to go dashing through snowpiles with you! Remember to ensure that your furry companion has appropriate protective coverage, whether a sweater, coat, or boots.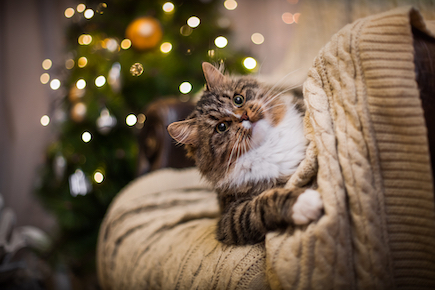 Binge watch and snuggle.
What's better than watching a movie by a cozy fireplace with your best furry companion? Absolutely nothing! The best part about watching these movies during this time of year is how much attention you can spend on and get from your kitty or pup. What pet parent doesn't love cuddling up with their favorite pet under warm blankets and sipping hot chocolate while they watch Christmas movie marathons?
Binge on some quality pet-parenting by taking a break and enjoying this special time relaxing with your cats or pup. Give your pets all the love and attention they deserve during the hectic holiday season with a cozy evening at home together.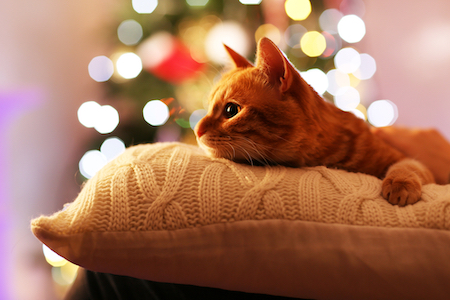 Enjoy the light show.
Are you ready to get into the Christmas spirit? Pile your pets into the car, turn up that holiday music, and have fun finding the best light displays in your town. Open up the windows, listen to the holiday tunes, and enjoy the lights, but don't let your dog or cat roam around your vehicle. Make sure they are securely fastened in by a buckle or seat belt.
Taking your dog on an evening walk in the snow is the perfect way to enjoy Christmas, and the added lights and decorations make it extra special. Just find any neighborhood with homes decorated with colorful lights and take a stroll with your pet while checking out all these fantastic decorations.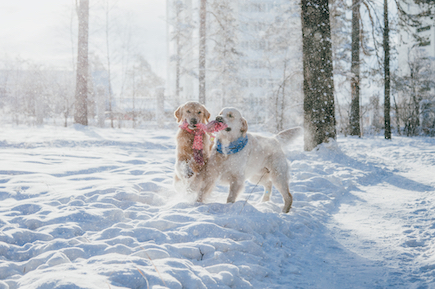 Play some reindeer dog park games.
For the more active pups in your home, a dog park is always an excellent source of exercise before those cuddle-worthy moments by the fire. Let your dog run around outside, interact with other dogs, or fetch some snowballs for fun! If your dog is highly energetic, this fun activity is guaranteed to make him happy and tire him out.
Suppose you don't live near a dog park, no worries. Set up a puppy playdate with a friend or neighbor on a nearby trail or in your backyard. When you introduce your dog to other pets that he gets along well with, it helps socialize the canine and provides much-needed physical and mental stimulation. You can spend some quality time enjoying your friends while watching your dogs wear themselves out.
Have a happy and safe holiday!
The holidays can be one of the most enjoyable times to bond with your pet. No matter what you decide to do this holiday with your pets, you can make the most of the time you have together. It's been another challenging year for the world, so give back to your loving pet this Christmas with lots of extra kisses and belly rubs. It's the most wonderful time of the year, so enjoy the holidays with your furkids!
Emergencies happen anytime, but they tend to occur most frequently during holidays. Make sure you are prepared to help your pet get the treatment he needs with coverage from a pet health insurance plan. It's one of the best gifts you can give your best furry friend.
Find the right pet insurance coverage for your pet through Pet Insurance Review. Get started on protecting your pet with a free quote today!
References:
1. Del Prete, C. (2020). Homemade dog treat recipes for the holidays. Retrieved from https://bestfriends.org/stories/features/homemade-dog-treat-recipes-holidays
2. Jamieson, A. (2021). 10 homemade cat treats your kitty will love. Retrieved from https://www.care.com/c/easy-homemade-cat-treats
3. Crafty Morning. (2014). Salt Dough Puppy Paw Print Christmas Ornament. Retrieved from https://www.craftymorning.com/salt-dough-puppy-paw-print-christmas-ornament/
4. Huang, N. (2021). Turn Your Cat's and Dog's Paw Prints Into Christmas Tree Ornaments With These DIY Clay Kits. Retrieved from https://people.com/pets/personalized-pet-paw-print-ornaments-amazon/