At the beginning of the pandemic, Coronavirus information-sourcing was all over the place, and new discoveries about the COVID-19 virus were circulating daily. We knew virus transmission could happen between animals and humans, but we did not know the severity, how, and where it all began. As infection rates soared and social distance measures were implemented, people began wondering can your pet get COVID?
In April 2020, the CDC was recommending for pets to social distance, as a cat tested positive for Coronavirus. It was also recommended that if you have COVID, you should quarantine away from pets too.
In June 2020, National Geographic reported that the US had three cats, and one dog named Buddy test positive for Coronavirus. Buddy did show signs of respiratory illness, but a second dog in the household did not; however, the second dog tested positive for antibodies, according to the USDA.
Then in July 2020, Buddy passed away, but it is to be noted that he did have lymphoma cancer. According to the National Geographic veterinarians, "It's unclear whether cancer made him more susceptible to contracting the coronavirus, or if the virus was responsible for any of his symptoms, or if it was just a case of coincidental timing."
This tragic and unfortunate case is just one incident that humans can in fact give COVID-19 to animals. USDA's National Veterinary Services Laboratory confirms that the virus can spread from humans to animals, but the transmission rate is low. Today, there have been over 28 million cases of COVID-19 in humans in the US, but only 67 cats and 46 dogs, according to the USDA which updates their infection list daily.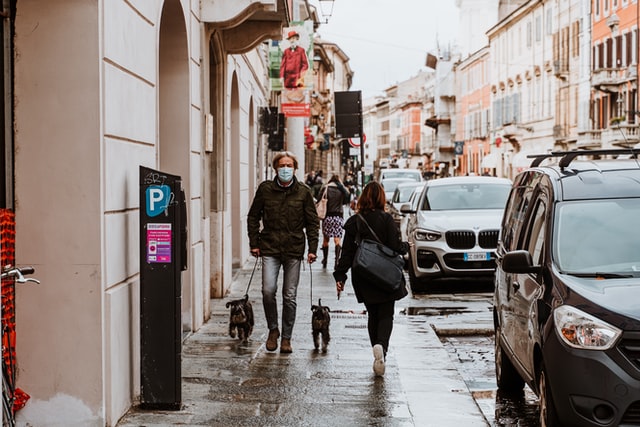 So, can you give your pet COVID? The short answer is yes.
The CDC says, "A small number of pets worldwide have been reported to be infected with COVID-19, mostly after close contact with people with COVID-19.
Can you get COVID from your pet? The CDC says that "at this time, there is no evidence that animals play a significant role in spreading COVID-19 to people."
If you or a household member becomes infected with COVID-19, the CDC recommends that the infected person should isolate from other humans and pets. The transmission rate may be low, but it is best practice to keep your pets as safe as possible.
It is best to have someone else care for pets if you do come down with COVID-19. If you cannot find someone to care for your pets, then it is recommended to wear a mask and washing your hands before caring for your pet. Avoid contact with your pet and avoid petting, licking, snuggling, or sharing a bed with your pets.
The CDC also says not to let pets interact with people outside of the home, just the same as social distancing recommendations for people. It is best to limit your pet's exposure by avoiding public places and gatherings. Do not put masks on pets because it could harm them. Do not use any cleaner or disinfectants on your pets because that will harm them. There is no evidence that viral spread can occur from pet fur or skin.
If you have COVID, and your pet starts to show symptoms, do not take your pet to the vet yourself. First, you will want to call your veterinary clinic and let them know you are infected with COVID-19 and describe the symptoms of your pet. Many vets will want an over-the-phone or telemedicine consultation before bringing the infected vet into the office. They will then discuss the best treatment and care options.
If your pet tests positive for COVID-19, you will want to isolate the pet so more transmission does not occur. This is not a reason to abandon or surrender your pet. The CDC says no pet has died as a direct result of COVID-19. Pet symptoms can include fever, lethargy, coughing, sneezing, breathing issues, eye discharge, vomiting, and diarrhea. If your pet has not shown symptoms for 72 hours, then it is safe to end your pet's isolation.
Overall, the transmission rate to pets is low, but it is best to reduce your pet's risk by taking safety precautions. If you have any questions, contact your veterinarian who can give you the best up-to-date information, or check the CDC Guides "If You Have Pets" or "What to do if your pet tests positive for COVID-19."
It is always best to protect your pet with a pet insurance plan. Get a quote today to compare plans and see what pet insurance can do for you.