We review some of our favorite chews and treat dispensing toys available from Chewy.com to help you teach your pup to play alone and not chew the furniture!

Tempt their taste buds and temper their chewing habits with great chew toys that don't give up their treats easily!
How do you stop your dog chewing shoes, furniture, the kid's toys, the carpet…?
It's natural for your puppy to want to chew things, it's the way they explore the world, but it's important to teach them what they can and can't chew if you want to protect them and your belongings!
Puppies and dogs need to chew to keep their jaws and teeth healthy, but they need to learn what it is OK to chew and what it is not!
Chew toys are the answer.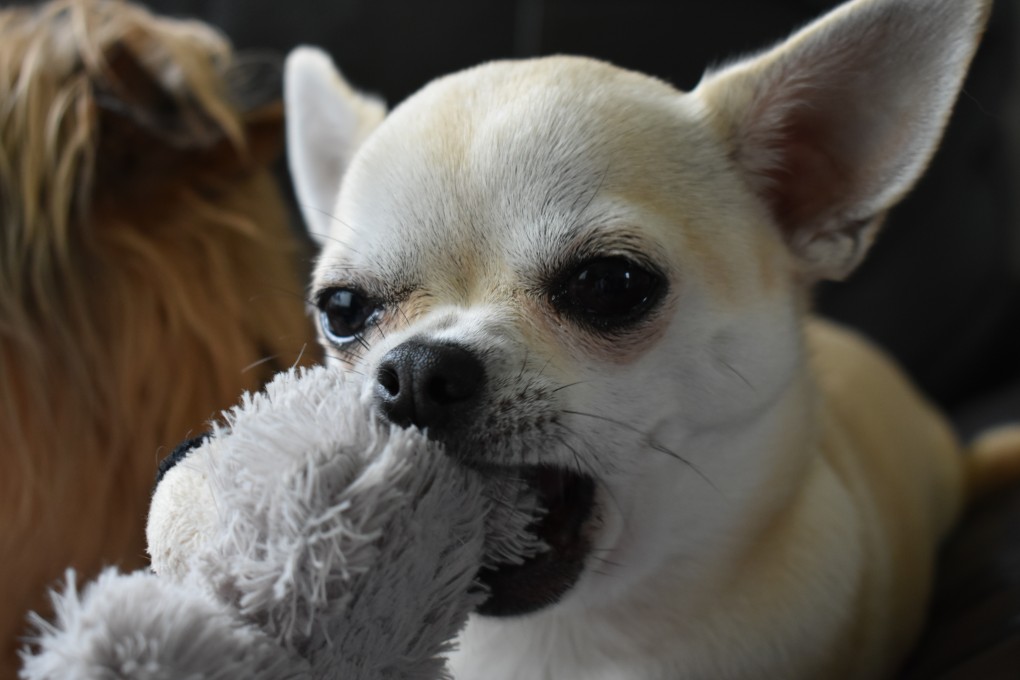 There are some great chew-able toys available that are safe. Some are flavored, and some keep your pup interested by slowly dispensing treats as they chew! When you need to leave them alone for a while give them a few toys of different types to keep them occupied. It's a good idea to buy a whole range of chews and toys, so you can leave then with 2 or 3 different toys every day. This way they won't see the same toy more than once a week and they'll keep interested. Ring the changes as often as you can supplying new challenges and chews and you'll train them what they can, and can't, chew in the house.
There are lots of different toys they can play with alone like rawhide chews, sterilized bone chews, nylabone chews and tough, rubber treat dispensing chews. These hollow rubber toys give your pup a challenge and a reward; you hide food and treats inside and they have to work out how to get them out! Fill them with cream cheese and some biscuits, safe peanut butter and treats and they'll keep your pup entertained and rewarded for hours!
Chew toys we recommend
We love Chewy.com's range and recommend Kong's range of treat dispensing toys. They come in lots of shapes and sizes and some interlock, providing hours of distraction for your pup.
Your dog will spend hours trying to get every last treat out of this tough, Kong Wobbler chew, and when you throw it, it bounces and wobbles, creating a great game of chase!
For puppies they have this fun Kong Puppy Goodie Bone shaped chew you can fill with treats to keep your chewing puppy entertained and rewarded, or maybe they'd like the Kong Quest Wishbone treat dispenser? Whatever you choose they are bound to be interested!
For the super intelligent pups who are good at problem solving there are treat dispensing toys that fit together so you can vary the challenge every time you give them their treat dispenser. The Kong Genius Leo fits together with the Genius Mike to provide your dog with the ultimate treat dispensing challenge!
You can get squirty cans of dog friendly spreads and small sized treats to fill the kongs with from Chewy.com too!
Benebone products are tough, flavored chew sticks and you can choose between peanut butter flavor, bacon and chicken flavors!  Nylabone make flavored chews too.
The roasted marrow bones and bully sticks are good alternatives to the treat dispenser toys and flavored rawhide can satisfy any dog's need to chew!
Be sure to buy toys and chews that fit the size of your puppy or dog and replace them once they get worse for wear.
Chews can help your pup learn it's fun to stay in their crate when you need them to!
Leaving your dog home alone can be a dangerous time for your belongings so it's a good idea to leave them in a play pen or crate, especially when they are young. Make sure the play pen or crate is big enough for them to have a bed area and a play area, and if they are young, a toilet area in an emergency. They need to learn it's OK to be left alone, so you can get things done.
They need to see the crate or pen as a safe space they can retreat to and have a sleep or play with their toys, alone. Giving them toys and interesting chews to play with is a great way to show them it's a good place to be. Remember not to put them in their crate as a punishment for bad behavior or they will learn to associate it with being in trouble.
Older, well behaved dogs need amusement too!
When your dog is older and know what he can and can't play with, you will probably be able to leave him restricted to a familiar room while you're out for an hour or two. Hopefully you've trained your dog to cope if you leave them for an hour or two, but while you're out they will need something to do and interesting and challenging toys, changed every day will help to keep your dog amused and happy while you're away.