When it comes to vet care, there are many different types of vet appointments. You can visit your vet for regular veterinary visits, emergency vet visits, and even vet specialist appointments. All these vet appointment costs differ, so how do you know what you will be paying out of pocket? Keep reading to find out more about the average costs for these three types of vet visits.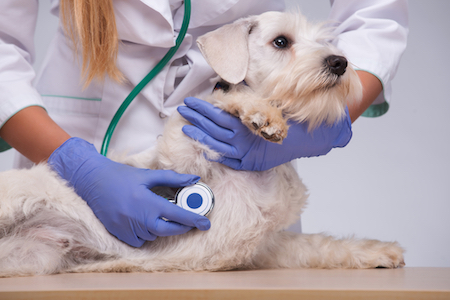 Different Veterinary Costs for Your Pet
Depending on whether you are bringing your dog to the veterinarian for an annual exam or your cat to the emergency clinic because she swallowed a foreign object, the cost of treatment will differ significantly.  To make things even more confusing, fees for each type of vet appointment can also be different depending on where you live.
In this article, we're going to give you a general range of costs for the three primary types of vet visits: regular appointments, emergency appointments, and specialty veterinarian appointments. No matter the reason, you want to give your pet the best care possible while being prepared for the vet bill costs. As a pet owner, it's important to know all there is about your pet's vet visit, vet care, and vet prices.  The more you know about your pet's medical needs, the better equipped you will be to make decisions that are best for them in terms of vet care.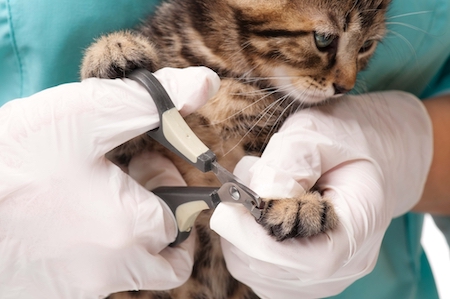 How Pet Type Can Influence the Costs of a Vet Visit
It's important to mention that there are a variety of things that can affect the cost of vet care and one of them is the type of pet you have. Typically speaking, the smaller the animal, the lower the costs. So getting vet care for a gerbil or pet iguana will usually cost less than getting care for a large dog, which should cost less than getting care for a horse.
Breed Can Also Affect Costs
Another factor that affects veterinary costs is the breed of animal. This is particularly true for dogs. While there are only 42 recognized cat breeds in the United States, there are over 190 recognized dog breeds! The bottom line here is that certain dog and cat breeds are more prone to health issues than others.
Some of the most breed-specific health conditions for dogs are:
ACL tears

Bladder stones

Brachiocephalic syndrome (due to narrow nasal passage)

Cancer

Ear infections

Hip dysplasia

Knee and elbow dislocations

Slipped discs
If you're unsure about your dog or cat's breed-specific conditions, it's always a good idea to ask your veterinarian about what you can expect.
Routine Vet Appointment Costs
Routine veterinary appointments occur when your dog or cat goes to the vet for a check-up and possibly some preventative care, such as vaccinations and blood tests.  The basic office visit appointments are generally not emergencies, but instead opportunities for the vet to assess a pet's health and address any concerns that the pet owner may have.
It is recommended that you schedule your pet's regular veterinary visits at least once a year. Preventative wellness care not only gives the vet and pet parent a good idea of the pet's current health, but these appointments often find diseases and illnesses in their earliest stages, meaning they are the most treatable for your pet.
The average vet visit cost for a physical exam and additional treatments falls within these ranges:
Office Exams: $45-$60
Annual Exams: $125 – $600
Spay/Neuter Costs: $200 – $1000
Tick and Flea Control Medication: $50 – $200
Core Vaccines: $75 – $100
Heartworm Test and Prevention: $50 – $150
Fecal Exam: $40-$50
Microchip: $40
Dental Cleaning: $200 – $600
Pets who have a routine physical examination at least once a year are likely to live longer, healthier lives. That alone makes the cost of annual visits worthwhile.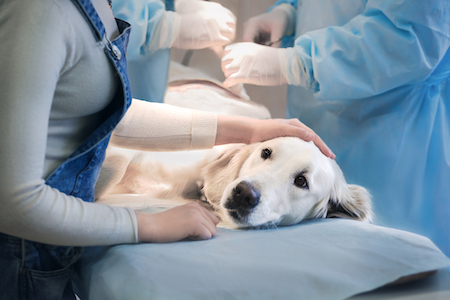 Emergency Vet Appointment Costs
Pet emergencies often happen at the most unexpected times, and often when your usual veterinarian's office is closed. That's when you opt to take your injured or sick pet to the emergency veterinary facility. The costs for emergency treatment can vary widely, depending on the day, location, time, the size of the pet, the nature of the emergency, and what treatments and equipment are available for use at that clinic.
Emergency vet visits are usually expensive because they're necessary in life or death situations. Veterinarians and vet techs are working immediately on your pet to diagnose and treat the medical concern. Therefore, emergency veterinary services are pricier than fees for a routine veterinary visit. On average, pet parents can expect to pay an average cost similar to the examples below for common emergency procedures:
General exam and consultation: $100 – $150
X-rays: $150 – $300
Blood test: $80 – $200
Ultrasound: $300 – $600
Wound treatment and repair: $800 – $2000
Oxygen therapy: $500
Emergency Surgery: $800 – $3500
The more technologically and medically capable an emergency clinic is to handle any injury, illness, or trauma, the higher the fees. Other factors that influence emergency vet visit prices include specialized staffing, testing, diagnostic equipment, and 24/7 availability.
The above prices are merely averages; for severe trauma, such as a pet hit by a car, the prices would be considerably higher. Many veterinary emergency clinics accept pet health insurance and credit cards as payment, and there are even some facilities that will work with pet owners on monthly payments to satisfy the vet bills.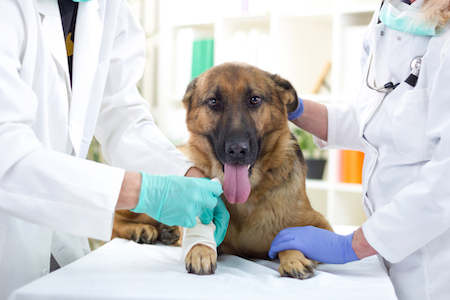 Specialist Veterinarian Costs
Specialty veterinarians are licensed vets who have extra training and board certification in specialized areas of veterinary medicine. The most common specialty veterinary medicines are neurology and neurosurgery, cardiology, radiology, internal medicine, and ophthalmology.
To make an appointment with a specialist veterinarian, you will need a referral from your regular veterinarian along with copies of your pet's medical records. The specialist will keep your regular veterinarian aware of the results of your pet's appointment and testing.
Because of the expertise of the particular medical area of your pet, specialist veterinarian costs are higher than routine exams. Specialty staff works with pet owners to determine the best course of treatment for their dog or cat. Should your pet need chemotherapy or radiation therapy, cataract removal, knee surgery, or kidney dialysis, your regular veterinarian will refer you to the nearest vet specialist in that area of medicine.
The average price of an initial consultation varies based on the medical condition involved, but most prices fall between $195 – $250. Re-check veterinary care costs may be as high as $100. Average prices on common veterinary specialist treatments are as follows:
Cardiology treatment, $575 – $1100
Kidney dialysis (first 2 – 3 treatments): $3000 – $4500; remaining treatments: $600 – $700
Chemotherapy: $150 – $500 per dose;
Radiation: $1000 – $1800
Cancer curative treatments: $4500 – $6000
Cataract removal surgery: $2600 (one eye) – $3800 (two eyes)
Specialist costs will vary depending on your pet's type of health problems and the treatment options available at that veterinary office.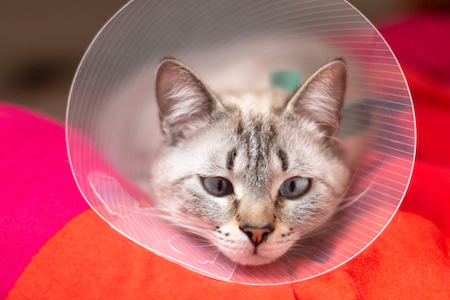 How pet insurance can save money on vet costs
A pet insurance plan will reimburse most emergency and specialist appointment costs after your deductible. That means that you can expect your furry friend to receive high-quality treatments and excellent care. Pet ownership includes wanting your furkids to receive the best pet care possible. An insurance plan will make that goal attainable.
Pet Insurance Review is the ultimate source for finding the top insurance policies that meet your needs and budget. We make it easy for you to compare plans, so you make a choice that you and your pet are happy about. Get a free insurance quote, and start preparing for your pet's future.
References:
Berr, J. (2017). Sick pet? Here's average cost of treating cats and dogs, by state. Retrieved from https://www.cbsnews.com/news/sick-pet-highest-and-lowest-veterinary-costs-cats-dogs-by-state/
Allen, M. (2021). The Annual Vet Visit Cost: What to Expect. Retrieved from https://www.petcarerx.com/article/the-annual-vet-visit-cost-what-to-expect/1276
Pets Plus Us. (2014). Why Your Pet Needs an Annual Physical Examination. Retrieved from https://www.petsplusus.com/pet-information/health/why-your-pet-needs-annual-physical-examination
Cain, E. (2021). What You Should Know About Emergency Health Visits. Retrieved from https://www.petinsurancereview.com/blog/what-you-should-know-about-emergency-vet-visits
BluePearl. (2018). What is Veterinary Specialty Care? Retrieved from https://bluepearlvet.com/pet-blog/what-is-specialty-care/
Cornell University Veterinary Specialists. (n.d.). Pet Owner FAQ. Retrieved from https://www.cuvs.org/for_pet_owners/faq
Cardiology Northwest. (2021). Financial Resources. Retrieved from https://heartvet.com/financial-resources/
Wag Walking. (2017). Dialysis and Renal Replacement Therapy in Dogs. Retrieved from https://wagwalking.com/treatment/dialysis-and-renal-replacement-therapy
CareCredit. (2021). Cat and dog chemotherapy cost and financing. Retrieved from https://www.carecredit.com/well-u/pet-care/cat-and-dog-chemotherapy-cost-and-financing/
Eye Specialists for Animals. (2016). Cost of Pet Eye Surgery/Treatment. Retrieved from https://eyespecialistsforanimals.com/forms-and-resources/cost-surgery-treatment/