How many of us spend hours on our phones or sitting in front of a gaming console playing games that engage us and stimulate our minds? Human beings don't like to be bored and our dogs don't like it one bit either. And that's why interactive pet toys are so important for our pups' mental health and wellbeing.
What Happens When Dogs Become Bored?
Nothing good, I can assure you. Many dogs who do not get enough physical and mental stimulation end up developing unwanted or destructive behaviors such as incessant barking or chewing on furniture. This is particularly true for dogs who already suffer from separation anxiety.
Beyond stopping unwanted behavior, mental stimulation is also important for your dog because it helps their minds stay sharp. You may know an older person who has begun doing crossword puzzles or sudoku as a way to maintain their mental faculties. Well studies have shown that mental stimulation can increase your dog's cognitive functioning. This can really help your pup as he or she ages.
With this in mind, here are some of the top interactive toys to keep dogs busy.
Here are the top interactive pet toys to keep dogs busy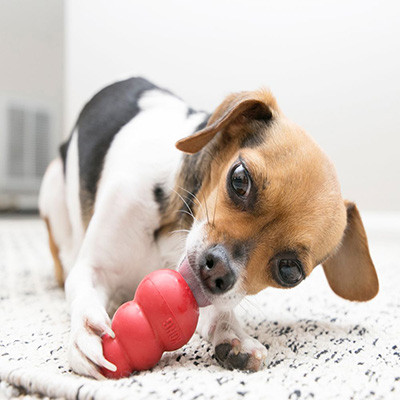 The KONG Classic
The KONG is a well-known pet toy that is often the first thing that is vet recommended for dog boredom. The rubber toy comes in a range of sizes for your pet. You want to choose the right size so that your dog can actually pick it up, check on it, and lick inside. The KONG Classis has a hollow part in the middle for you to pack with dry or wet food, peanut butter, or even healthy snacks like vegetables that your dog likes. KONG also makes some stuffing options as well. You can also pre-pack them, and place them in the refrigerator to grab before your next Zoom meeting.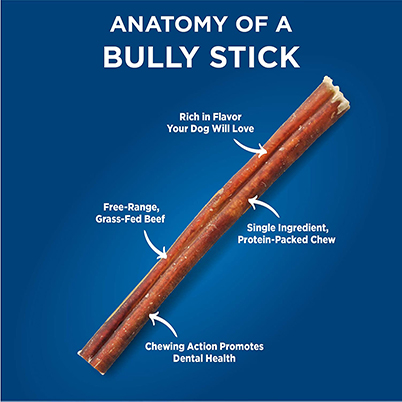 Barkworthies Odor-Free Bully Sticks
Bully Sticks are very popular among dog owners because dogs go insane over them, and it usually takes them a while to chew them down. They keep your pet engaged and focused. What is great about the Barkworthies brand, in particular, is that they are designed to be odor free. Some bully sticks get an unfavorable odor after being chewed down, but these do not. They clean your dog's teeth, and can keep aggressive chewers entertained for hours. They are also grain-free, raw-hide free, and chicken-free, making them great for dogs who suffer from food intolerances.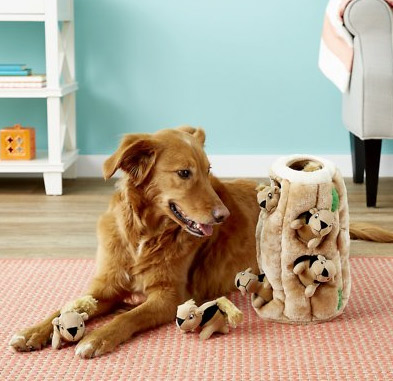 Outward Hound Hide A Squirrel
This plush toy can be a good game for pets who are on a diet or not stimulated by food or snacks like the KONG above. The Outward Hound Hide A Squirrel is a toy with mini squeaky squirrels that you can hide in the tree. Then your dog can have fun pulling them each out. If your dog loves squeaky toys, then this is a toy they will enjoy. Got one of those dogs that likes to rip toys apart? Then this may not last long as this is made from a soft plush material. If your dog does destroy the squirrels, you can even buy replacements. It comes in various sizes for your pet and can be restuffed over and over.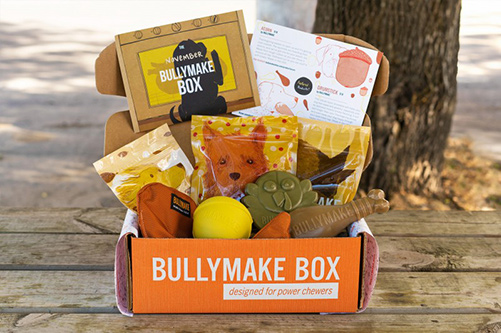 The Bullymake Box is a subscription service that sends you new toys for your dog on a monthly basis. Bullymake focuses on toys that will withstand and entertain even the toughest chewers. Their toys are guaranteed to be durable, tough, and of course safe. Each box comes with 2-3 durable toys to fit your dog's play style, along with 3 healthy treats. If you want to try one box, you can cancel your subscription at any time and free of charge. The idea with Bullymake is to send your pet new durable toys to keep them constantly entertained.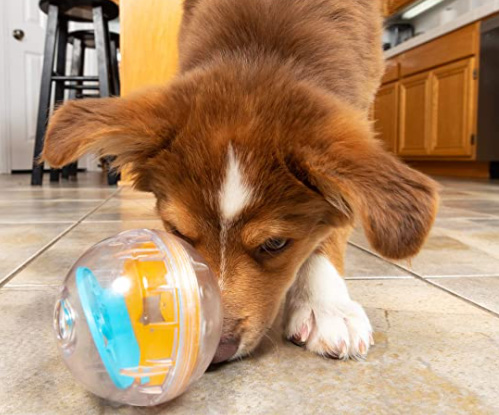 Pet Zone IQ Treat Dispenser Ball
This IQ Treat Dispenser Ball can entertain food-motivated dogs for hours. You can place food or treats inside the ball and set the level. Your dog will then move the ball around and get treats out. This ball is also great for dogs who eat too fast by making them slow down and work for their food. It dispenses a few bites at a time and can keep your dog engaged for hours. The only downside is if your dog is not treat motivated, they may lose interest. The IQ Ball is often recommended as a great starter toy for interactive toys, and you can even start with a high-value reward such as turkey to train them on how to use it.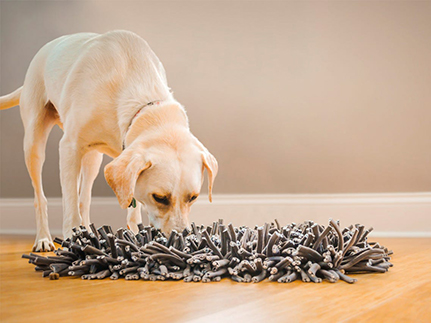 A snuffle mat can be used as a game or even to feed your pet its regular food. If your dog needs to slow down eating, using a snuffle mat can help. You hide the food in the mat, and your dog must sniff and forage the food or treats from the mat's pockets. This will be a fun game for your dog to use their sniffer skills to get rewarded with food or treats.
Overall, no matter what toy you choose for your pooch, some training may be required. If your dog is not used to a puzzle toy, it may not understand at first. You can start with using a high-value reward and eventually use their own kibbles. It depends on your dog's food motivation level and what they like.
Do you love your pet more than anything? Consider getting them pet insurance. Get a quote today and compare the best rates on our trusted website.