Being a pet parent can be a rewarding experience. It can also be a costly one! At some point in their lives, many dogs and cats will require one or more surgeries. These can include things like spaying and neutering, teeth cleaning and removing a GI blockage. Costs can vary greatly, ranging from a few hundred dollars to thousands of dollars. When looking for help in paying those bills, you'll want to look for pet insurance that covers surgery, and all KINDS of surgery.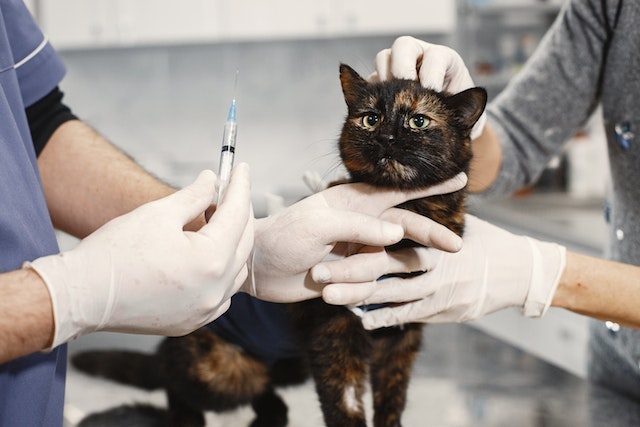 How Does Pet Insurance for Surgery Work?
There are two main types of pet insurance: accident-only and comprehensive, also called accident & illness. An accident-only policy costs less each month because it offers less coverage than a comprehensive plan. Accident-only plans cover surgery for animals who have sustained injuries from an accident, as an example if they were hit by a car or fell from a great height.
Accident and illness coverage helps with a wider range of veterinary needs, including surgeries for diseases and chronic illnesses as well as accidents.
Each pet insurance provider will cover different surgical procedures as well as different aspects of surgical procedures. For instance, Embrace Pet Insurance covers the following aspects of pet insurance:
Exam fees

Anesthesia

Vet and tech time

Overnight observation

Medical waste fees

Prescriptions from veterinary staff

Follow-up care

Rehabilitation 

Take-home prescriptions
What Surgeries Does Pet Insurance Cover?
Put simply, pet insurance typically covers surgeries for life-threatening issues or to save the pet's mobility. While each provider may have their own specific coverage, the following surgeries will typically be included into the plan:
ACL Repair

Foreign body removal

Bone fracture repair

Bladder stones

Cancerous Tumor Removal

Malignant skin tumors

Repair internal bleeding

Herniated disc

Joint surgery

Hip surgery for dysplasia (not covered if pre-existing)
Before buying any pet insurance policy, it's important to do your due diligence and pay attention to the fine print to understand EXACTLY what is covered. It's also recommended that you speak with your vet to determine what type of health issues your breed of cat or dog may develop as they age.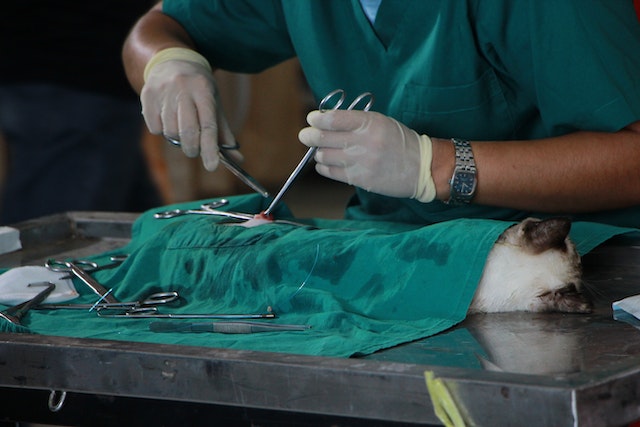 What About Spaying and Neutering?
Spaying and neutering are typically considered non-emergency elective surgeries and are not covered by accident-only or comprehensive coverage. Some insurers, however, offer wellness plans that can easily be added on to your policy to cover the cost of spaying and neutering, along with dental cleanings. 
Other Surgeries Not Covered by Pet Insurance
In addition to spaying and neutering, there are some other surgeries that are not generally covered under an accident-only plan or accident and illness plan. These include:
Surgeries related to pre-existing conditions

Dental cleanings and surgeries 

Removal of benign growths
One of the reasons why it's so important to get your fur baby enrolled into a policy at a young age is so that you can take advantage of your FULL coverage. Often when pet parents wait and enroll their pet once they are older and experiencing health issues, they will find the provider won't cover pre-existing conditions. 
The moral of the story is, if you want your pet insurance policy to help you financially, help yourself by getting coverage as early as possible. You'll pay lower monthly premiums and have an easier time getting claims through because your fur baby won't have pre-existing conditions. And, if you want the most comprehensive coverage that covers all surgeries including spaying, neutering and dental cleanings, then look for providers that offer wellness plans as add-ons.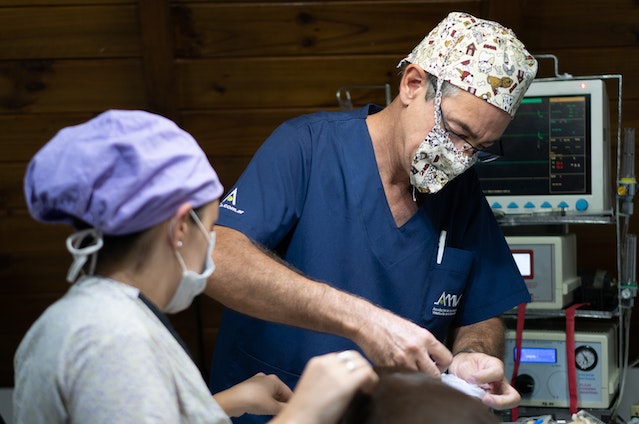 How Much Does Pet Insurance Cost?
According to the North American Pet Health Insurance Association (NAPHIA), the average costs for coverage at the end of 2022 was:  
Accident and illness premiums for dogs – roughly $53.34 per month or $640.04 annually. 
Accident and illness premiums for cats was roughly $32.25 per month or $387.01 annually. 
Let's Help You Find the Right Policy for Your Family and Budget
If you're like most pet parents we talk to, your fur baby is a member of your family, and you want to do everything you can to keep them happy and healthy! Should a serious accident or illness arise, requiring surgery, are you financially able to handle the bill?
If you're looking for pet insurance that covers surgery, we can help! Take two minutes to request a free, customized quote from multiple pet insurance providers in the country. Once you find the right policy for you, you can have peace of mind knowing you can get the surgery your fur baby needs to extend and improve their life.
References:
https://naphia.org/industry-data/section-3-average-premiums/ Average Annual Premium Year Over Year (U.S.)