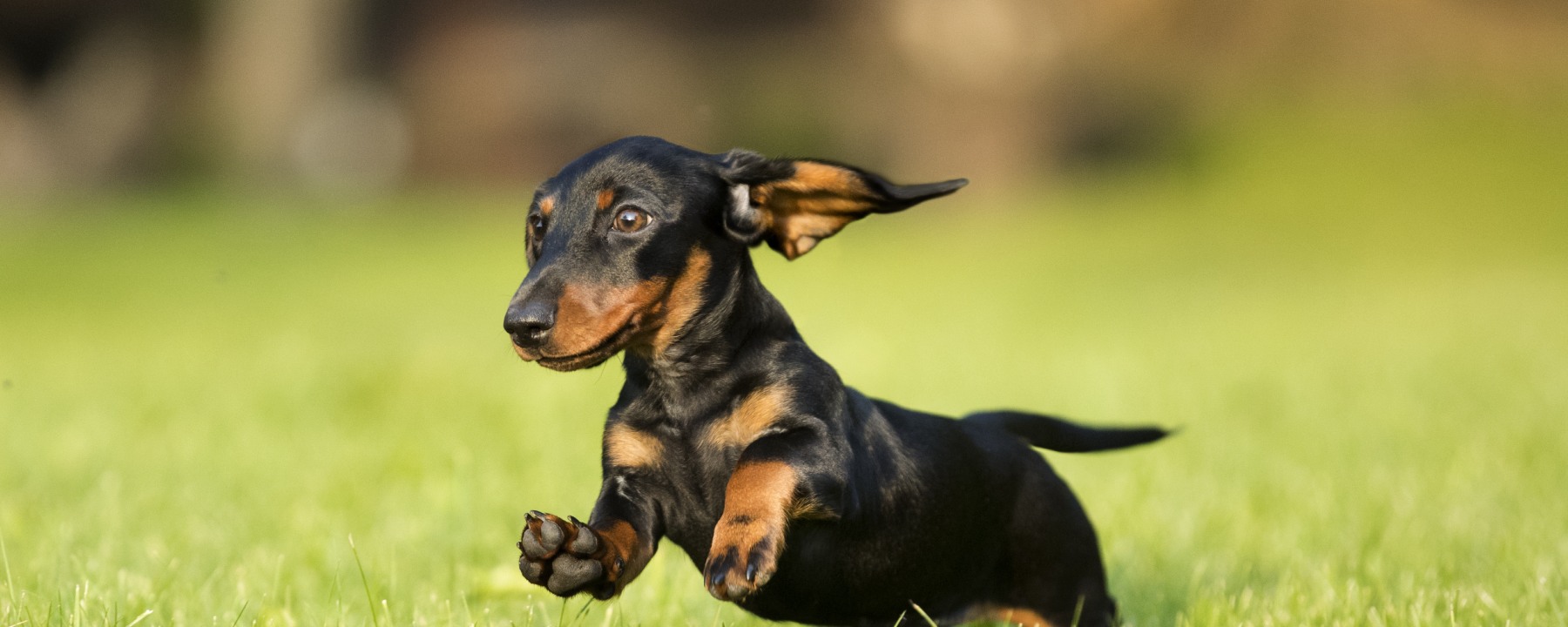 Dachshund Dog Breed Profile
Pet profile
Great for those looking for a lively, low maintenance breed.
Small (20cm to 22cm)
Typically weighing between 7kg and 14kg
12 to 15 years life expectancy
Dachshunds are a breed loved for their lively and engaging personality, as well as their reputation as the world's cutest hot dog on legs!
They are sometimes called the wiener dog or sausage dog because of their long bodies and short legs.
Dachshund owners are breed-loyal to the core and enjoy participating in "doxie" activities such as breed shows, dog sports, owners' clubs, and longest doxie contests.

History of Dachshunds
Dachshund is a german word meaning badger dog. You would not expect that these tiny dogs were hunting dogs.
They were originally bred to dig into badger dens and get the badgers to come out. These small dogs had to be very brave to hunt badgers.
A variety of coat types were bred, such as the wirehaired dachshund making it better for thorny patches, or the longhair dachshund for colder climates.
Dachshunds are a national symbol of Germany. It wasn't until World War I that they became popular in the United States.
Today, Dachshunds have a loud bark thanks to their badger hunting ancestors.
Characteristics Of The Dachshund Dog Breed
The Dachshund's personality is energetic, enthusiastic, persistent, sometimes stubborn, and often charming.
The breed is fast becoming a favorite with families for both its size and personality. They are an easily recognizable dog breed because they have a low profile with a long body.
Dachshunds come in various shapes, sizes, and colors, making them the perfect dog if you're looking for variety.
Shorthaired, longhaired or wirehaired Dachshunds are all equally adorable; however, the long-haired and wire-haired varieties require more grooming to stay looking their best.
Training Dachshunds can be difficult because they are known to be a rather stubborn dog breed.
Adopting A Dachshund From A Breeder Or Rescue
When you are adopting a dachshund puppy, it is best to adopt from a reputable breeder that is recognized by the American Kennel Club as a dachshund breeder.
You will also probably want to know what coat type your dachshund puppy is because they can come as longhaired dachshunds, smooth-coated dachshunds, and wire-haired dachshunds, some requiring more frequent brushing. There is also the miniature dachshund.
You can also find dachshunds or mixed breed dachshunds in shelters or at a dachshund rescue.
Exercise And Nutrition Of Dachshunds
It is recommended you exercise your Dachshund for up to 30 minutes a day when they reach adulthood.
Dachshunds are easily exercised so a short walk around the block twice a day will be sufficient in terms of keeping them happy and healthy.
Although bear in mind that some Dachshunds don't like being outside in bad weather, so you may find that your dog is reluctant to go on walks during the rainier months of the year.
Feed your Dachshund twice daily. If you have any concerns or questions about how much to feed your dog or how often, please consult your veterinarian for advice.
Common Health Problems And Illnesses Of Dachshund
Dachshunds do have their share of health issues, which is why it's important to take out dog insurance for your Dachshund puppy while they're still at a young age.
Fun Facts About Dachshund
Dachshunds come in fifteen different colors and coat varieties, including red, black, tan, cream, chocolate and fawn, and can have a variety of marking mixtures. Dachshunds also come in three sizes: miniature, standard, and a size in-between miniature and standard.
Andy Warhol loved Dachshunds, often letting his Dachshund come to interviews with him and 'answer' questions for him.
The Dachshund is the smallest dog breed that was traditionally used as hunting dogs.
Dachshunds make superb watchdogs, letting loose at intruders (or just visitors) with continuous barking.