If you're a pet parent who likes to travel, you may wonder if bringing your cat with you is safe. The answer is yes — as long as you have the right gear! One popular option for traveling with your kitty is a cat backpack. But before you buy a carrier, there are some things you should know. In this article, we will discuss what to look for when buying a cat backpack for travel and provide tips on how to transport your cat in one safely.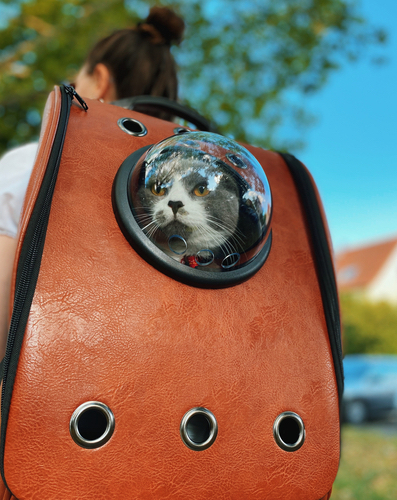 Why choose a cat backpack?
Generally, when people think of traveling with a pet, they think of dogs. However, some cats can make excellent traveling companions, too! Caring for your cat can be a lot of work, especially if you take them on trips. That's why it is vital that they are always comfortable and happy while traveling in any condition. To make your kitty's journey as easy as possible, you'll want to find a cat carrier or cat backpack that gives your cat enough room to have her adventures alongside you in style and comfort.
The cat backpack is designed to keep your pet comfortable and safe while you are out on the go. It's ideal for taking your cat out walking, hiking, visiting local outdoor markets, or even traveling the world! Domestic cats have limited spaces to spend their days, and it's easy for them to become bored and unhappy. Mental and physical enrichment is often required to keep cats at their feline best, and sometimes, a trip into the great outdoors from a safe location is just what they need.
A cat backpack carrier looks similar to a school backpack but is created with a cat's safety, needs, and comfort in mind. The right backpack will have the necessary features for your cat's comfort but also for the cat parent's too. That's why when buying a cat backpack for travel, you want to look for the best crafted and secure carrier possible.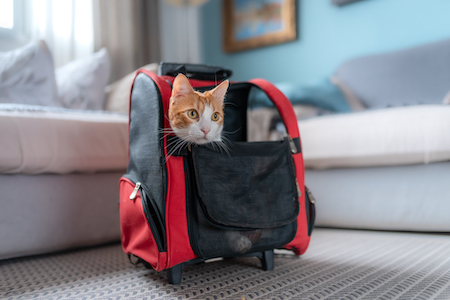 What are the two types of cat backpacks?
There are two cat backpack carriers: the carrier backpack and the bubble window backpack.
The carrier backpack
The backpack carrier bags are made of highly durable fabric. This model is perfect for taking your cat on the go because it has mesh windows that allow them to see what's going outside while still giving them a layer of privacy.
The bubble backpack carrier
The bubble backpack carrier is a sturdy and stylish option for your cat. This bag has a hard shell exterior made from rigid polycarbonate material. It includes a bubbled, semi-sphere window enclosure which gives the kitty an extra boost of safety and comfort while giving her an unobstructed view of the outside world. The window makes the bag a completely transparent backpack.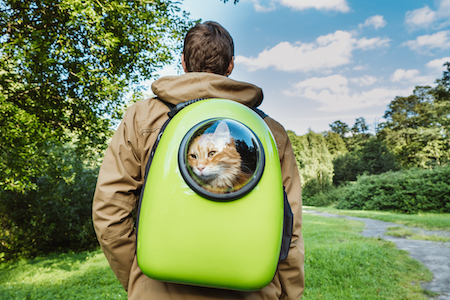 What should you look for in a cat backpack?
We all understand the importance of safety when it comes to our pets. For this reason, you should purchase a cat backpack made from durable materials and adjustable enough so as not to cause discomfort or harm to your furry friend. Here are the important considerations to look for when you are researching the right backpack for your kitty.
Durability and structure
The right cat backpack is essential for pet owners. It needs a tough material to withstand regular use and solid stitching at critical points like straps or bottom so it can hold the weight of your furry friend without breaking. Look out for specific weight maximums and ensure that the fabric is thick enough to hold against cat claws.
The base of the backpack is also important. If it's soft, the bag might sag and get uncomfortable for your cat; however, if the base is too hard, it can be painful on your cat's paws. Many backpacks come with cushions, although cat parents can make their own with a soft yet supportive blanket.
Ergonomic design
The perfect cat backpack should have an appropriate design and take pressure off sensitive areas, like the cervical spine or lumbar region. Before buying a cat backpack, make sure the backpack is comfortable for you to wear. Wide shoulder straps and chest belts can help distribute weight while staying in place, so you don't have to worry about being bulky or heavy. Some backpacks also come with an additional chest strap which helps to distribute the pressure equally and efficiently. This sturdy band prevents slippage so that you can comfortably carry your pet.
Your cat should also feel at ease in their new bag; cats generally prefer bags that have ample space without feeling cluttered or claustrophobic.
Ease of use
The pet carrier backpack should have easy access points to place your cat in and out without trouble. For most cats, a top-loading backpack is best as it's easier to set a cat at the top of the bag than to force the cat on one side. Another perk of the top-opening backpack is that you can open it while walking around. Your cat can stick her head out the top to see what's happening around her.
Additionally, look for a good cat backpack with pockets that are great for storing a few treats, collapsible water bowls, or other necessities. A non-slip base is another essential feature, so you can set the bag down on the ground without it moving out of control.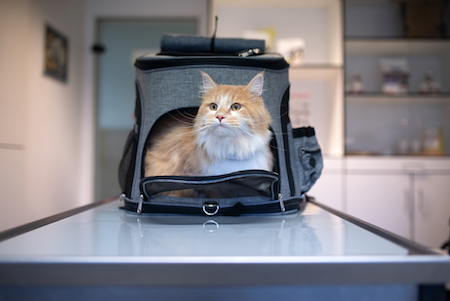 Ventilation holes
The cat backpack must allow plenty of airflow so that cats do not overheat in a confined space; thus, it must be well ventilated. Make sure your cat has enough ventilation when in a backpack carrier.
Look for backpacks with special mesh openings that allow airflow inside and out of the bag so your cat doesn't get too hot. Mesh sides are great for cats because they keep their fur cool and protect them from exposure to UV rays. The window fabric should be breathable, flexible, and rigid enough to withstand any adventurous moments with your cat.
Plastic bubble windows often have holes in them, usually at the top and sides of the window. However, the window functions like an astronaut's dome and may not allow the same free-flowing fresh air holes as a mesh window. The level of ventilation is determined by the design of the bag. Investigate all ventilation holes before buying a cat backpack.
Size
When choosing a backpack, check its rated weight. Compare dimensions and make sure your cat can comfortably sit in the bag with ease. Make sure your backpack is big enough for your cat according to her weight. The cat must be able to move around quickly and stand up on her own, without bending or crouching or feeling cramped or uncomfortable. A sturdy frame and bottom will support your cat's weight as well.
A cat carrier backpack that is too small for your cat will make any adventure she goes on an uncomfortable and unpleasant experience.
Secure design
There are many features to look out for in a cat backpack, but one crucial thing is the carrier's design. You should never compromise the safety of your feline, and a securely designed backpack carrier is necessary to prevent your cat from escaping.
Many mesh and bubble window cat backpack carriers include a tether or leash attached to the inside of the bag. This additional feature connects to your cat's harness, allowing the kitty to explore the outside world from the backpack without being able to escape.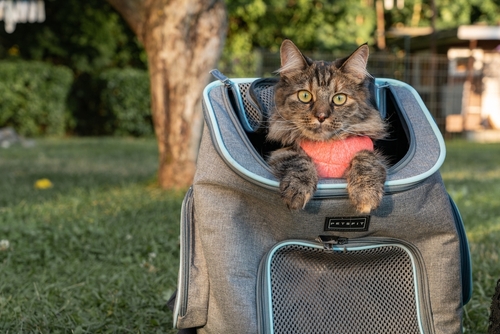 Are cat backpacks safe?
Cat backpacks are a safe and reliable means to transport your cat, provided the backpack is sturdy and constructed for the cat's safety and comfort. That's why it's crucial to know what to look for before buying a cat backpack. Backpacks are an excellent way to transport your cat safely. Whether you're going on short trips or taking them out for hikes, these bags will give your cat security while allowing her to enjoy mental and physical enrichment during your adventures.
Cats can be very vocal about their likes and dislikes, so it's important to know what your cat likes and dislikes. If you have never introduced a backpack to your cat, start by letting her check out the bag and get used to it. Generally, most cats come to see the backpack as a safe space and enjoy getting into it!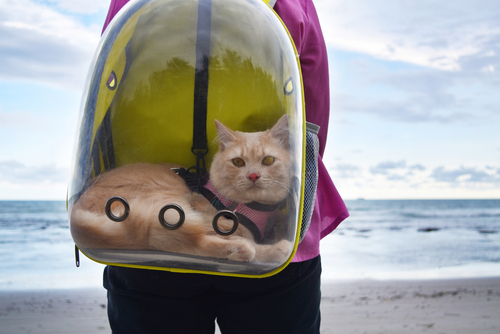 Travel safely with a cat backpack and pet insurance.
Feline backpack carriers are excellent ways to take your cat safely on your adventures. However, accidents sometimes still happen. Don't get caught off guard if your cat needs emergency medical care. With a pet insurance plan, your cat will have access to top veterinary care, and you'll get up to 90% of the vet bills reimbursed.
Pet Insurance Review is about finding the best insurance coverage for pet parents and their furry companions. Start with a free quote today, and make sure your cat is protected in the future.
References:
Kelley, J. (2010). Five Cat Breeds That Make Excellent Traveling Companions. Retrieved from https://www.catster.com/lifestyle/five-cat-breeds-that-make-excellent-travel-companions
Bollen, K. (2022). Outdoor Access is Key to Your Cat's Mental and Physical Health. Retrieved from https://www.purrfectfence.com/blogs/experts/outdoor-access-is-key-to-your-cats-mental-physical-health
Bad Cat Family. (2022). Cat Backpacks: Must Have Features. Retrieved from https://www.badcatshop.com/blogs/bad-cat-blog/cat-backpacks-must-have-features