Pet Wellness Guides > True Petventures: Beau and Buster's Story
True Petventures: Beau and Buster's Story
Posted: 05/02/2022 | BY: Erin Cain | Categories:
Many pet parents wonder if buying pet insurance coverage for their dog or cat is worth it. We provide plenty of information on the benefits of pet insurance and how to obtain a quote for your pet. Still, sometimes it helps to hear it straight from the source: other real-life pet parents.
Our True Petventures blog feature focuses on pet parents sharing their experiences with pet insurance. Today's feature comes from Hannah Carabello, who shares this story of her dogs, Beau and Buster.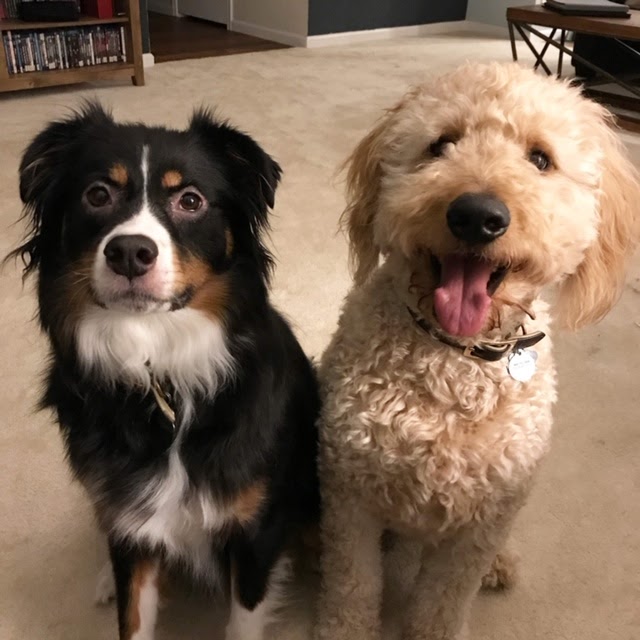 "On Labor Day weekend 2018, we had a scheduled vet appointment for Beau just for a checkup but ended up discovering a urinary tract infection at that visit. That night, we realized Buster was acting a little off, and he wouldn't eat, so we called the next day and got him an appointment. He woke up that morning vomiting and couldn't keep anything down, so the vet gave him a shot to curb nausea. We were told to head back immediately if he threw up anytime within 24 hours of the shot. 
Around 3 a.m., he woke us up by vomiting. I got dressed and drove him to the emergency vet clinic. It was there they discovered a blockage in his intestine. The X-ray didn't look horrible, so they kept him overnight and gave him fluids in hopes that would help him pass the blockage. Unfortunately, by the following evening, he wasn't looking much better, and we made the decision to have the surgery. 
Between Beau and Buster, in a matter of five days, we had spent nearly $8,000 on vet bills. This was also only eight months after we spent almost $20,000 on IVF. Not only did these vet bills pretty much deplete what was left in our savings, but we were due with a baby in two months. I had never been so happy we had pet insurance, which covered 90% of our costs and allowed us to do what we needed that week to take care of our dogs — our first kids. I now recommend it to everyone I know!"
We're so glad that Beau and Buster — and their pet parents — benefitted from pet insurance. Emergencies often happen when we least expect it; with pets, that's typically in the middle of the night on the weekend! Pet insurance can help you recoup some of your expensive veterinary bills. You can focus on helping your pet get healthy and avoid the anxiety associated with financial stress.
Thank you, Hannah, for sharing Beau and Buster's story. Do you have a True Petventure to share about your dog or cat and pet insurance? Join our email list and share your story in the space provided. If possible, please include a high-resolution photo of your cat or dog. Your pet's story may be featured in a future True Petventure blog.