Pet Wellness Guides > Planning A National Park Trip With Dogs: Tips & Things To Consider - Pet Insurance Review
Planning A National Park Trip With Dogs: Tips & Things To Consider
Posted: 05/02/2022 | BY: Lacy Bursick | Categories:
Outdoor activities have seen a huge increase in popularity due to COVID, and some outdoor recreation sites have seen over a 200% increase in visitors. People have been flooding to National Parks like Zion, Yellowstone, and Yosemite. Since air travel was limited, RV travel has soared. One great thing about traveling by vehicle is that you can include the whole family – even your dogs. Unfortunately, dogs are not allowed on the trails in national parks. This is a nationwide rule created to protect lands and natural cohabitants. As you plan your National Park adventure, there are some things to consider before committing to bringing your dog.
Know The Rules
The National Parks in the US all share a similar dog policy. You are required to have your pet on a leash at all times, and responsible for the actions because there is wildlife and plant life that could pose danger. They allow dogs in campgrounds, in vehicles, and often on paved walkways through the main visitor center and developed areas.
Even with this being said though, wildlife can be anywhere in a National Park and I have personally seen a bear on a paved path where dogs were allowed. It is always best to be very aware of your surroundings – even in the parking lots.
National Parks do not allow dogs on hiking trails or in the backcountry. This may seem like a silly rule, but this rule is to keep you, your pet, and wildlife safe. In backcountry areas of parks such as Rocky Mountain, Glacier, Yellowstone, or Yosemite, there are possible predators such as bears, wolves, and mountain lions. If you are caught with your dog in a banned area, you will be facing a hefty fine.
Research The National Park You Are Visiting
With that being said, not everyone plans to hike 17 miles into the canyon of the Grand Tetons or backpack through Yellowstone sleeping in grizzly bear country. When you are considering if you want to bring your pets on your National Park trip, it is recommended to research the sites that you want to explore and see if your pet is allowed. The National Park website provides great info on where dogs are welcome. Some parks are more per-friendly than others, and understandably. For example, Shenandoah has over 400 miles of hiking trails that dogs are allowed on.
In desert parks such as Death Valley, Zion, or Arches, daytime temperatures can be so extreme that your dog will be at high risk for heat exhaustion. You may think that you and your dog are ready for summer temperatures, but the dry and arid desert temperatures can reach upwards of 110+ degrees Fahrenheit and water is often limited.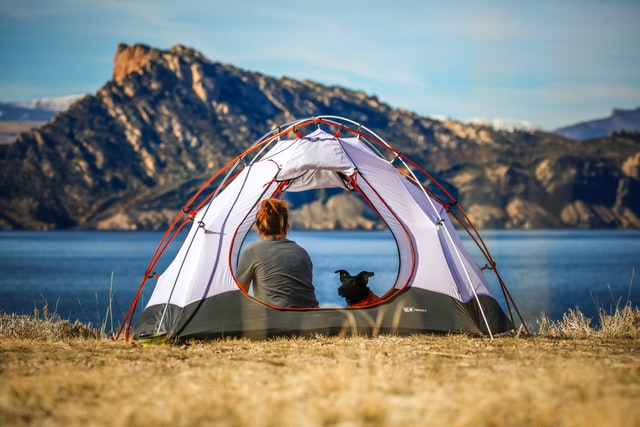 Consider Your Accommodations
If you are only planning to camp, and plan to do limited trail hiking, dogs can be great companions. If you are rolling through in a luxury RV with an air conditioner, your home on wheels will be a great home base even if you have to leave your pooch to go watch Old Faithful blow.
I have taken my dogs to many National Parks in the cooler months, and we have had a great time at our campsite. I do want to go back to some of those parks though without my furry friends so I can explore more and actually hike to the destination views.
Consider Visiting Surrounding Forests
Another thing to consider when planning a National Parks trip is that there are often National Forests surrounding the protected parks. Dogs are allowed in National Forests, but that does not mean it is any safer as far as wildlife goes. Hunting is often allowed in National Forests, so that is important to consider for safety purposes.
As you plan a trip with dogs into National Parks, it is recommended to check out tips for hiking with your dog, and tips for a safe roadtrip with your pets.
We know you love your pet, so make sure they are protected with pet insurance.