We might be biased, but we can't think of a better copilot than your dog. And fortunately, doing fun activities with your dog is clinically proven to provide physical and mental stimulation, which promotes overall good health (for both you and your dog.). Not to mention, it strengthens your bond.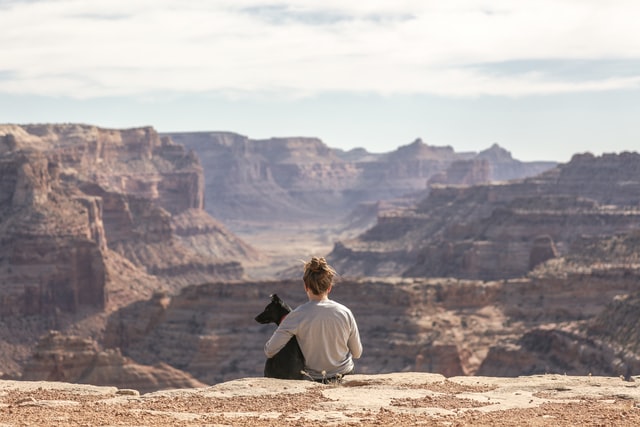 To help make your bond 

even stronger, we've compiled a list of dog-friendly activities.
Go on a road trip: Who better to take a vacation with than your pup? Whether it be camping or staying at a dog-friendly hotel, make new memories together on the go!
Go on a hike: Get some physical activity in for both you and your pup, all while taking in the view from the top. Start with an easy-to-moderate walk to ensure your dog is comfortable, and work your way up.
Go for a run together: Some dogs have more energy than others, so consider this and the temperature outside before embarking on your marathon. Start slow, and you've found yourself a new exercise buddy.
Go on a bike ride together: Riding a bike while your dog is on a leash requires a bit of balance and practice, but once you get the hang of it, it is an incredibly enjoyable physical activity for you both.
Take your pup swimming: Take your canine companion to a dog-friendly beach or lake. Note: bring a doggy life vest (not all dogs can swim)!
Visit an off-leash dog park: This is a wonderful opportunity for your dog to freely meet and play with other dogs.
Set up a doggy playdate: Did you hit it off with another pet parent at the dog park? Did your dog hit it off with another dog? Do you have a friend with a pup? Set up a playdate! Spending time with other dogs is just vital for your dog's socialization as spending time with humans like you.
Throw a puppy party: Is the pup's birthday coming up? Throw them a birthday party and invite all their pup friends to play!
Enroll your dog in an agility or obedience training course: Allowing your dog to be trained by professionals can bring out their inner skills and, at the very least, help strengthen your owner-pup bond.
Teach your dog a new trick: Dogs love to learn new things, no matter their age. So challenge them to learn something new! Teaching your dog a new trick will make you both feel a sense of pride, further strengthening that bond!
Make a puzzle for your dog to solve: Dogs with lots of energy need diversions. The internet is overflowing with brain teasers you can make with items in your home. And if you're feeling less than motivated to make something, you can always pick up a pup puzzle at the pet store or order one online!
Go to the pet store and let your pet pick what toys to bring home: It's time to let your dog steer the shopping cart. Let your pup pick out exactly what toys they want to take home to play with.
Enjoy some dog-friendly TV together: Snuggle up on the couch and watch a dog show together or perhaps "Best in Show" or "101 Dalmations". Followed by a group nap!
Bring your dog to work with you: If your office is dog friendly, bring your pup! (Ensure that no one in your office has a dog allergy). Your pup would prefer to see what you do at work all day rather than hanging at home alone. Bonus points if you already work from home.
Give your dog a "mani-pedi": 

Pet-friendly nail polish

 comes in a wide variety of colors — in a polish pen and traditional bottle-and-brush form. So why not give yourself 

and

 your pup matching nails?

Book a "Doga" Session: A 

dog-friendly yoga session

 will help you to unwind, relax, stretch, and, most importantly, bond with your pup. Doing downward dog with your best friend by your side has to be on every dog-lover's bucket list.

Go for a "Puppuccino" at Starbucks: You're already getting coffee; you might as well grab one for your dog, too! It isn't on the menu, but if you ask for a "cappuccino," any friendly barista will make one for your fur friend. It's simply whipped cream in a small cup, so as long as your dog isn't dairy-intolerant, you've found your new coffee companion.
Keep your pets safe on the go
No matter where you and your pup end up adventuring together, keep them protected by investing in a pet insurance plan.
Ease your mind and keep your fur friend safe – Get a free quote today.
References:
Best Friends Animal Society – Save Them All. Resources, Pet Care, and Shelter Info from Animal Experts. "Fun Things to Do With Your Dog". https://resources.bestfriends.org/article/fun-things-do-your-dog