It can be incredibly sad to watch our fur babies grow older. Joint pain and stiffness can cause our once energetic and enthusiastic pups to slow down and lose interest in their favorite activities. The good news is glucosamine is proven to help relieve joint pain and stiffness, giving your dog a new lease (and leash) on life. But what is the best glucosamine for dogs? We'll cover some of the biggest brands recommended by vets.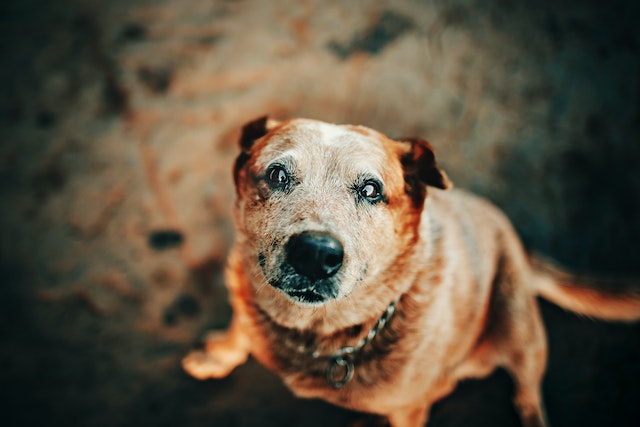 What is Glucosamine?
Glucosamine is a naturally occurring amino sugar in the body that helps your dog form and repair the cartilage in her body. As your dog ages, her body begins to produce less and less glucosamine, resulting in natural wear and tear of her joint's cartilage. Supplementing with glucosamine provides your dog's body the raw materials it needs to build and repair cartilage. The right glucosamine supplement can significantly improve your pup's mobility.
When it comes to the best glucosamine supplements for dogs, the following supplements are frequently recommended by vets. Be sure to speak with your vet about what glucosamine supplement they feel may be right for your pup:
Nutramax Cosequin Maximum Strength Joint Supplement for Dogs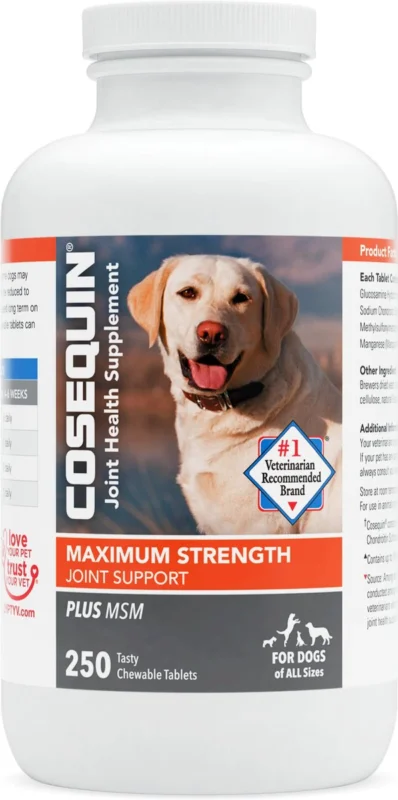 Nutramax Cosequin Maximum Strength Joint Supplement for Dogs has a great reputation and has been scientifically researched to improve the mobility in dogs. This is why it's generally the top rated recommendation by vets across the country.
Nutramax is manufactured right here in the United States. In addition to containing glucosamine HCI from shellfish and chondroitin sulfate from bovine cartilage, this supplement also contains added methylsulfonylmethane (MSM) and sodium hyaluronate, also known as hyaluronic acid (HA). MSM is a powerful anti-inflammatory and HA keeps joints nice and hydrated.
Happy Hips Chicken Jerky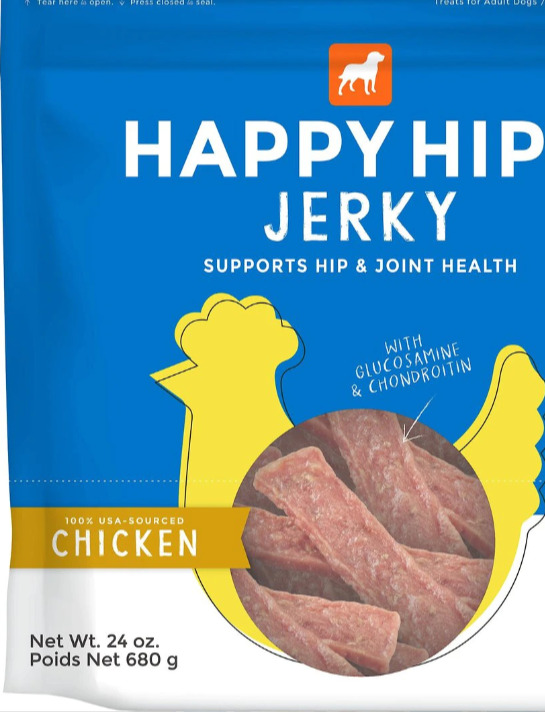 Happy Hips Chicken Jerky is a very good product for those who are on a bit of a budget. We love that these treats are grain-free and that the first ingredient is chicken. Dogs tend to also really love the taste, which is a big bonus. There's nothing like spending lots of money on a supplement that your dog turns his nose up at. 
Something else we really appreciate is that these treats are made from antibiotic- and hormone-free chicken that has been sourced from US farmers. That's  important because you want to know you are giving your fur baby the healthiest possible supplements that do not contain any unnecessary ingredients. 
Paramount Pet Liquid Vitamins for Dogs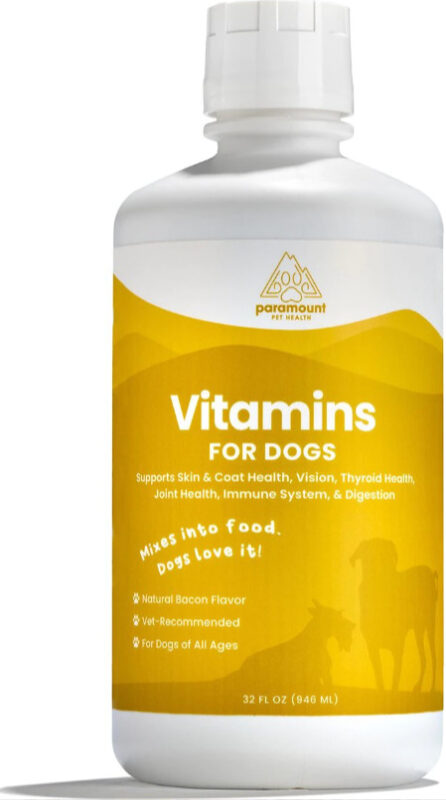 Paramount Vitamins for Dogs is a great option for those pup parents who are looking for a liquid supplement instead of a chew or tablet. This product can be drizzled right over food or given directly. Another benefit of liquid supplements is that they are often more readily absorbed than pills and chews.
What we really love about this product is that you are getting quality glucosamine and chondroitin in addition to a host of other wonderful vitamins and minerals to help your pup be as healthy as pawsible. Liquid vitamins also contains MSM, EPA, DHA and CoQ10, all of which are known to greatly reduce inflammation in the body that can damage joints. But that's not all, Liquid Vitamins also has (a minimum) of 1 billion CFU of probiotics for gut health and immune support. You just really get a lot of bang for your buck with this product.
Herbsmith Sound Dog Viscosity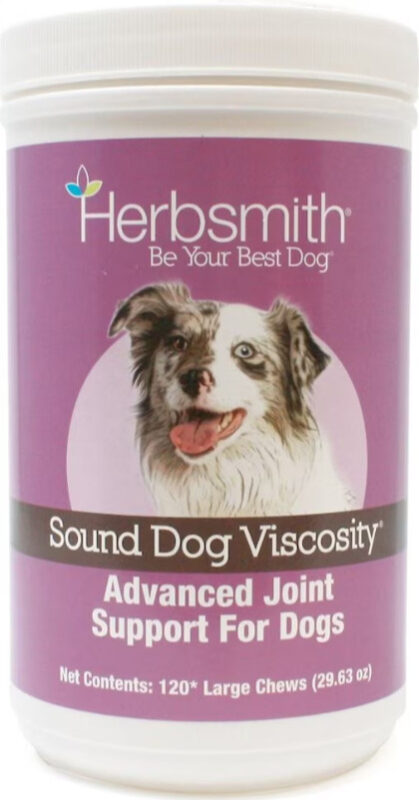 Herbsmith Sound Dog Viscosity is a high concentration formula. You simply get more glucosamine and chondroitin per serving with this product than most others. Of course, you will also pay more for it. Herbsmith also contains beneficial MSM, HA, as well as Boswellia, corydalis and curcumin.  
Now you may not have heard of corydalis before. We hadn't. It is a plant that has been used in traditional Chinese medicine for centuries to treat pain. One of the active ingredients in corydalis is called dehydrocorybulbine (DHCB), which has been shown in laboratory studies in mice as effective against inflammatory pain and injury-related neuropathic pain. DHCB blocks the pain signals from reaching the brain in much the same way prescription painkillers work, but it's all natural! 
Made in the USA, Herbsmith is a great option for those dogs who don't like chews, tablets, or liquids. Simply sprinkle the powder on their food. Most testimonials mentioned their dogs took to the powder easily. 
Blue Buffalo Life Protection Formula Adult Chicken & Brown Rice Recipe Dry Dog Food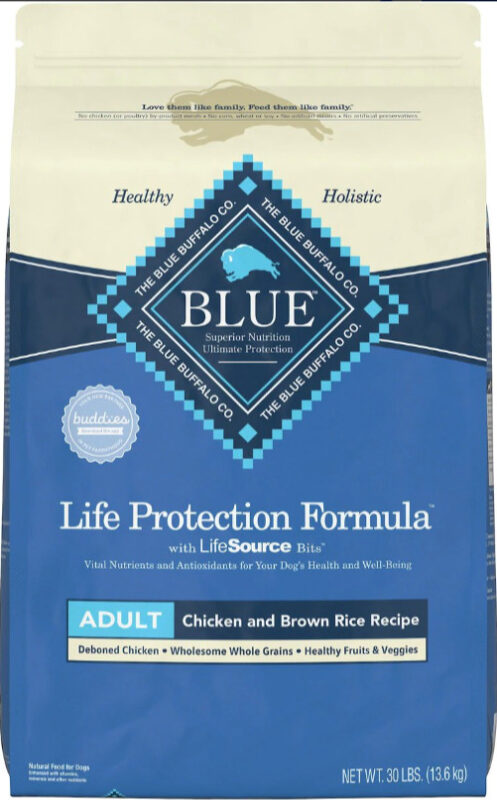 Blue Buffalo Life Protection Formula Adult Chicken & Brown Rice Recipe Dry Dog Food is a great option for those pup parents who want to help their fur baby get a healthy dose of glucosamine in every meal. In addition to glucosamine, the food also contains beneficial calcium, vitamins, and antioxidants.  The dry food is made with real animal protein but void of any corn, wheat or soy.  
You should always speak with your vet before switching dog food. It is also recommended you slowly introduce this food by mixing a little in with their old food. Begin with 25% of the new food and 75% of the old and slowly adjust over the course of one to two weeks. 
FAQ
Q: How do I know if my dog needs glucosamine supplements?
A: Most dogs will benefit from glucosamine supplementation. If you have a large breed dog that is predisposed to joint degeneration, consider supplementation before symptoms appear. 
Q: Do I need a prescription for glucosamine supplements?
A: The products listed in this blog post may be purchased online or from your local pet store. Having said that, it's always a good idea to consult with your veterinarian before considering supplementation. While glucosamine is safe for dogs, your vet can help you determine the appropriate type of supplement and correct dosing. 
Q: What is the best glucosamine for dogs?
A: That really depends on your dog. The products on this list all come highly recommended by veterinarians. But at the end of the day you need to determine the exact needs of your dog, your budget, and what your pup will find most tasty.
Get a Pet Health Insurance Plan That Can Help Your Pup Age Gracefully
No matter how much we want our pups to stay young, they will eventually begin to age and slow down. A pet health insurance plan can help you afford the care your pup needs to stay healthy and active. Take a minute to get a free, personalized quote from one of the country's top providers.