The temperatures are getting colder, and winter is on the horizon. When you take your pup outside, you probably pull on a heavy sweater or coat, some gloves, and a hat. But what about your dog? Should he wear a coat to go outside as well? Depending on the dog, the answer is yes. Some dogs should have coats to keep them dry and comfortable in cold environments.
Some pup parents think that their dog's coat is enough to keep them warm in cold weather, and for some breeds of dogs, that's true. After all, a Siberian Husky is unlikely to need another coat on top of his already made-for-winter fur. But some dogs, like seniors, puppies, short-haired or fine-haired breeds, small or toy breeds, underweight dogs, and dogs with medical conditions, may need an extra layer before venturing into the snow and cold. We can help with our guide on the best coats to keep your pup warm this winter.
How can I tell if my dog needs a coat?
While wearing a sharp coat is trendy for some pups, for others it's a necessity. If you walk your dog daily in cold temperatures, check for these signs that he needs some extra warmth and protection:
Shivering
Rapid breathing
Cold ears and feet
Hair standing on end
Increased urination
Lethargy
Anxiety, whining, restlessness
Holding paws up in the air
Low heart rate
A combination of these symptoms, especially if your dog has been exposed to cold temperatures for an extended period, may lead to hypothermia, which can be life-threatening to dogs.
Typically, when temperatures fall below 45℉, dogs who are cold-adverse will need to start bundling up. When it's 32℉ or colder, coats are a must for older dogs (especially those with arthritis or weakened immune systems), puppies, small breeds, and thin-haired breeds, like Whippets, Boston Terriers, Chihuahuas, Pugs, French Bulldogs, or Greyhounds.
How do I measure my dog for a coat?
You want to make sure that your pup's coat fits appropriately. It's best to choose apparel that is snug, but not tight. Always consider your dog's mobility needs and select a coat that doesn't have zippers or pockets that may catch on trees or branches outside. Determine the right apparel size for your dog by measuring him in these two ways:
1. First, have your dog stand on all four feet. Take a tape measure and run it from your dog's neck (the base, where his collar would be) to the base of his tail. Record this measurement.
2. Second, you want your dogs' chest measurement, especially for coats or jackets that close around your dog's girth. With your dog standing, measure around the largest part of your pup's rib cage, just behind the front legs. To ensure the correct sizing and snugness, apply the "two-finger" rule and place your fingers between the measuring tape and your dog's body.
If your dog is in-between sizes when you order his coat, always choose the larger size.
Now let's get to the best dog coats for this winter season…
Coat and sweater selections for your pup
With comfort, warmth, and style in mind, here are our selections for the best sweaters and coats for your dog this winter season.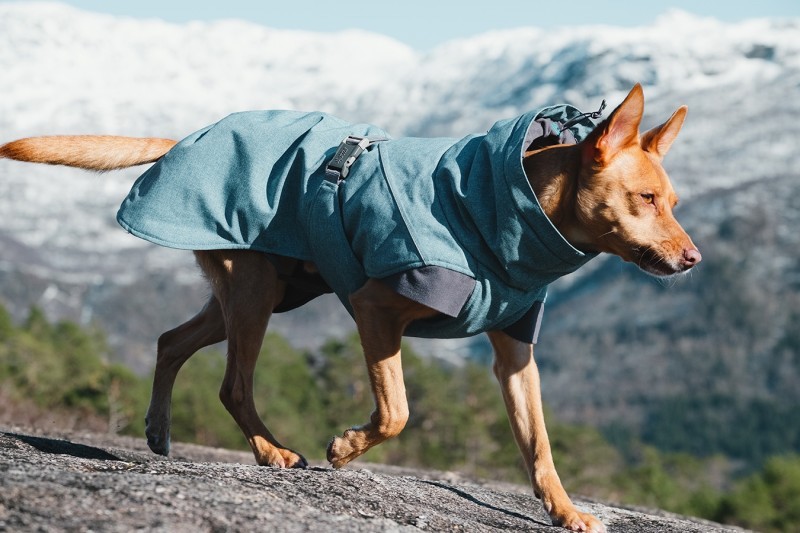 Designed for dogs without an undercoat or short-haired breeds, the Hurtta Expedition Insulated Dog Parka is ideal for any dog who needs some extra warmth from the cold outside. This parka includes windproof and waterproof elastic front sections to provide flexibility and mobility for your pup. Additionally, this Hurtta parka has adjustable collar circumference, neckline, and back length for the perfect fit.
Customer review: "My dog is a Rottweiler/Doberman mix and has no undercoat, so rain and winter weather are extra tough on her. The coat fit PERFECTLY. Looks incredible on her. There's a perfect underside part to keep her tummy warm and the perfect amount of space for her to go to the bathroom. We love it." – RT3K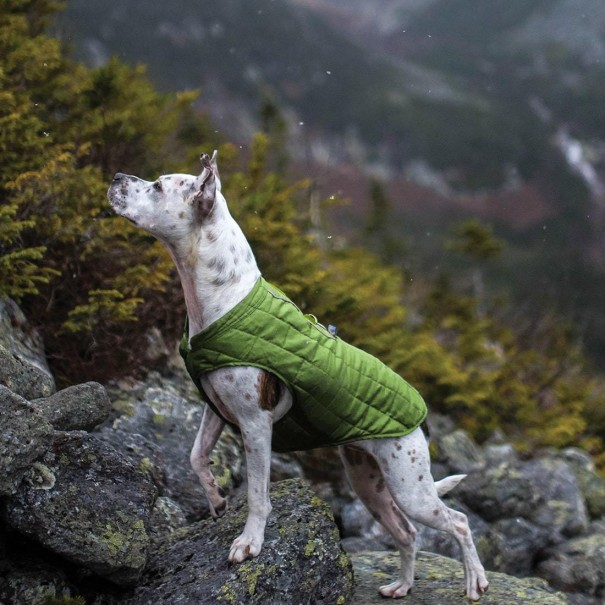 Keep your dog's core dry and warm while allowing him to run, play, and move like a dog with the Kurgo Loft Reversible Insulated Dog Quilted Coat. Whether you're walking the city streets or hiking through the woods, your dog will stay warm in this coat with Polytech fill and Microtomic Ripstop to prevent damage and tears. The reflective piping on the coat ensures that your pup will stand out no matter where he goes. The waterproof shell also has a zippered opening for easy access to your dog's leash or harness.
Customer review: "My dog is a short haired who LOVES snow and I just wanted a little extra layer for super snowy walks. This coat is perfect, she is 60 pounds with a big chest and we went with the large which fit perfectly! I mainly bought this coat because it provides protection against her belly when the snow is so deep and it does just that and more! Every time I take her coat off I can feel the warmth under the coat so while it is on the thinner side, it works well. Overall this coat is great and I would recommend." – Myla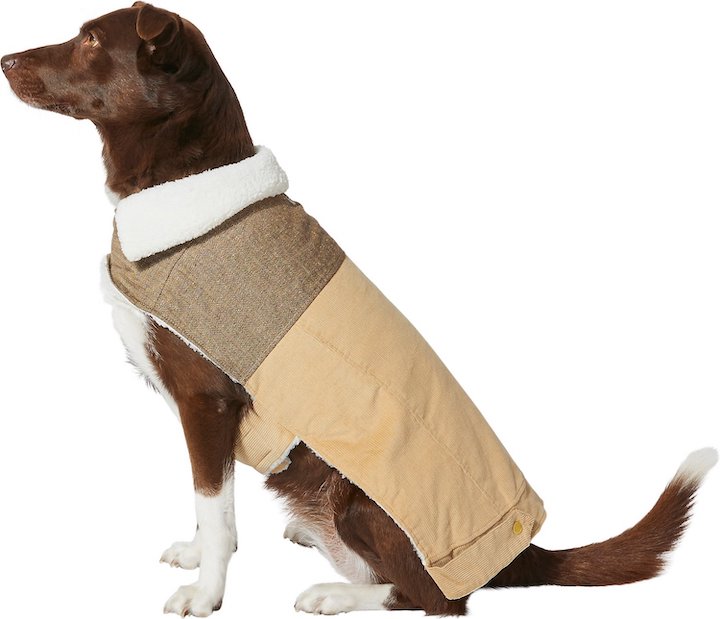 Want your pup to look trendy while staying warm at the same time? Look no farther than the Frisco Corduroy Insulated Dog & Cat Jacket! With its sporty herringbone and corduroy fabric and sherpa lining, your dog will be the talk of the neighborhood and the envy of other dogs everywhere. Warm and sporty, this Frisco jacket also features fasteners at the belly and neck for an adjustable fit and a leash hole for easy access to leash or harness. Classy yet warm, your pup will shine in this fall jacket. Even better, so will your cat! This style is also available for the fashionable kitty in your life.
Customer review: "I got my Golden Retriever this jacket thinking that the color would look good on him…but it looks FABULOUS! The mixture of corduroy and sherpa textures gives this a classy look, truly. The fit is absolutely perfect, I could not have asked for it to be any better. 100% recommend to anybody looking for an efficient, yet elegant fall/winter piece." – mytravelingk9s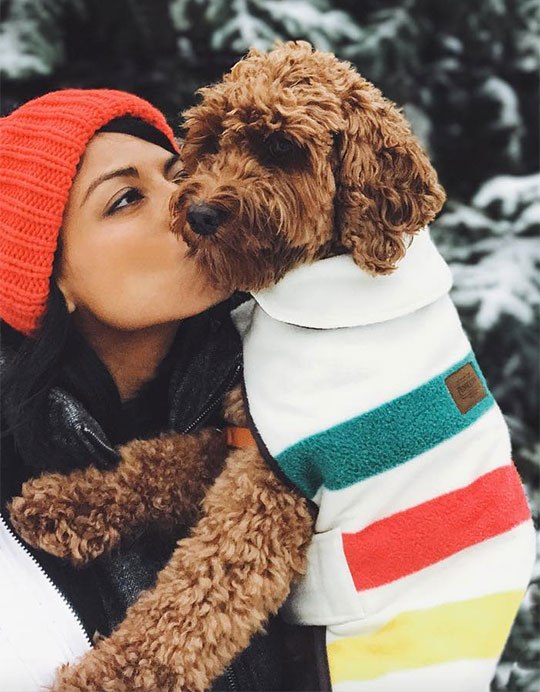 Stylish, cozy, and warm, you and your dog can show your support for our National Parks with a Pendleton National Park Dog Coat. This reversible coat gives your pup two fashionable looks that will keep him warm, and the coat is easy to put on and remove due to its hook and loop belt. The slit at the collar lets you attach a leash to his harness or collar. The Pendleton coat is machine washable and dryer-friendly on a gentle setting. Watch your dog turn heads this fall and winter in this eye-catching, beautiful coat.
Customer review: "We purchased this coat for our two dogs (one small, one large) in preparation for our winter road trip across America. These coats helped our dogs survive below-zero degree weather in Ohio and the snowy, wet weather we experienced at The Grand Canyon. We kept getting comments from on-lookers and dog-lovers about these coats. Foreign tourists at the national park couldn't resist taking photos of our fashionable dogs. These jackets made our dogs feel like superstars while keeping them dry and warm." – The_Magpie
3 Considerations When Shopping for Dog Coats
The following guidelines should be kept in mind when buying a winter coat for your fur baby:
How is it Designed?
As you can see, there are a wide variety of styles of coats available. But you have to think past what looks good to your eye. Keep your dog in mind. if you have an older dog or one with arthritis, you'll want to find a coat that will be very easy to put on and take off. Look for coats that are draped over the top and secured by straps underneath. Conversely, if you have a very young and active dog, find a coat that will not restrict their legs or movement.
Is it Washable?
For practical reasons, you should buy a coat that is machine washable. Unless your dog is an absolute angel, he or she will most likely find ways to get their coat filthy. yes, you can hand wash dog coats but… do you really want to?
What is the Return Policy?
Even the best efforts on your part to measure your dog correctly can result in a winter coat that just doesn't fit well. Make sure you can return the coat just in case.
Keep your pup warm, but don't force the issue either
We hope this list of best dog coats has been helpful. Remember, if your dog doesn't tolerate a coat, jacket, or sweater, don't force the issue with him. Also, remove your dog's outerwear once he is in the house as he may overheat quickly. Always remove clothing items immediately to prevent chafing or other irritations.
If you aren't sure your dog should wear a coat, check with your veterinarian for their advice. Your pup needs to stay warm and comfortable this fall and winter, and a functional and trendy jacket might be just the accessory he needs.
And to keep the chills away from your bank account, think about getting a pet insurance plans. Some plans start as low as $10 a month and some will even reimburse you for up to 90% of the vet bill. Talk about feeling warm and cozy! Get a free quote today!
References
Oakland Veterinary Referral Services. (2020). Cold Weather Danger: Hypothermia in Dogs. Retrieved from https://www.ovrs.com/blog/hypothermia-in-dogs/
Pedigree Foundation Staff. (2017). How Cold is Too Cold for Your Dog? Retrieved from https://www.pedigreefoundation.org/cold-cold-dog/
Stephens, J. (2017). Do Dogs Need Coats? 4 Tips From a Vet. Retrieved from https://www.petsbest.com/blog/dogs-wear-coats/
Disclaimer
The information contained on this blog is intended for informational and educational purposes only and should not be construed as medical advice. It is not a substitute for professional veterinary care. Always consult with your veterinarian before making any changes to your pet's health care or treatment plan.
The authors of this blog are not veterinarians and do not claim to be experts in pet health. The information provided here is based on our own experiences and research, as well as information from reputable sources. However, we cannot guarantee the accuracy or completeness of this information.
We encourage you to do your own research and consult with your veterinarian before making any decisions about your pet's health.