Just who does provide the best pet insurance in US, according you, our wonderful pet insurance reviewers? We've had a closer look at the stats from 2019 so far, to find out who you think are the best pet insurance companies are right now, and it's great to see so many insurers doing such a great job!
The best Pet Insurance 2019
We've taken a closer look at all the reviews left on our site from Jan 1st 2019 to May 31st 2019. We've analyzed the overall ratings out of 10 given to US pet insurers to give you an up-to-date picture of how they are doing in 2019, according to their customers.
We have 7 insurers who've all received over 100 reviews in the time period so we are focusing on their results to ensure the results are a valid reflection of customer opinions. We added together each insurer's overall ratings scores and divided that overall score by the total number of reviews we received for that insurer to give an overall average score for 2019 for each insurer.
You can see Nationwide has received by far the most reviews and are well rated by their customers, but the best average scores go to smaller insurers. What's great is that all insurers score between a 9.38 and 9.78 average rating, which is outstanding! It looks as if most US pet insurers are getting lots of things right, according to their customers.
The best overall rating according to the reviews of their Pet insurance customers in 2019 so far is given to Healthy Paws! Fabulous work! 
ASPCA Pet Insurance came in 2nd and Trupanion Pet Insurance (US) third, with all of the other insurers scoring over a 9.3, so there's really not much to choose between them all.
Here is the data for all 7 insurers so you can see the all important average ratings for each in 2019 so far. Nationwide have received the most reviews but its the average rating that important. It's definitely a close result, which is great!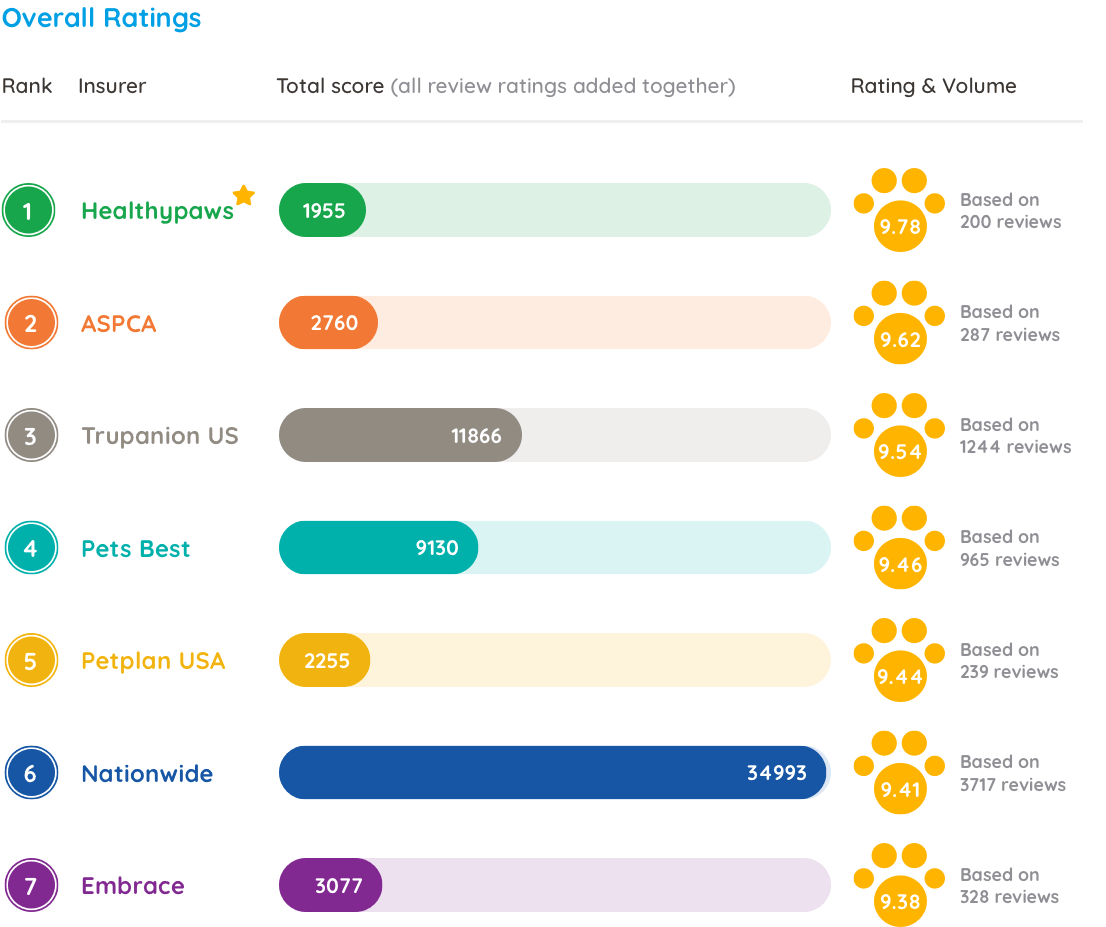 Looking at the insurers that received fewer than 100 reviews that deserve a mention, Pet First Pet Insurance scored a 9.5 from 50 reviews; and Figo Pet Insurance an 8.46 from 54 reviews and AKC Pet Insurance a 9.72 from 95 reviews. All great overall performances.
The Best Pet Insurance Claims Process Ratings 2019
We took a close look at how customers rated the top 7 insurer's customer service and there were some differences to overall rating scores. Healthy Paws Pet Insurance was ranked number 1 for customer service with ASPCA Pet Insurance a close second again. Nationwide Pet Insurance ranked 3rd and Embrace Pet Insurance ranked 4th for quality of customer service.
So, if you're looking for great customer service take a look at how the scores have changed!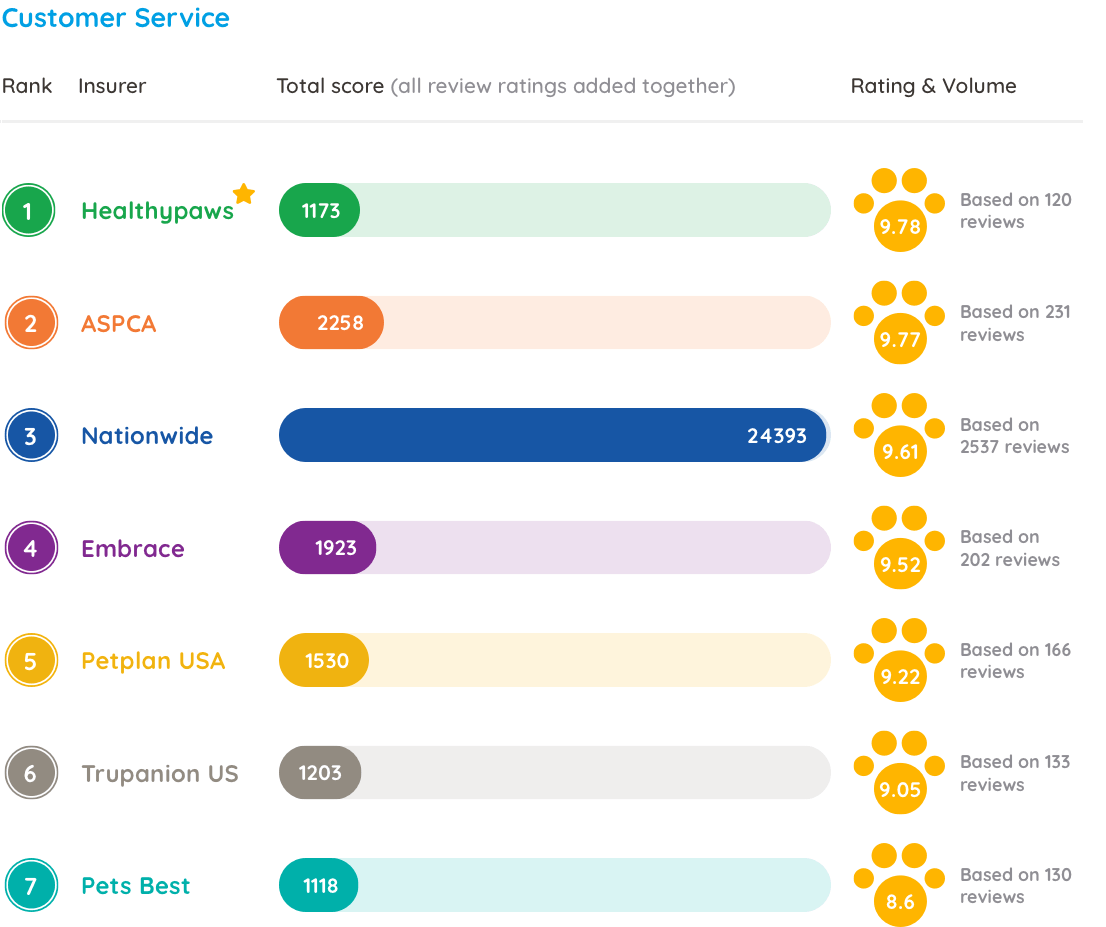 The Best Pet Insurance Claims Process Ratings 2019
And finally, we looked at the all-important claims process customer ratings to rank the insurers. Just who does give the best service when it comes to claiming?
Healthy Paws Pet Insurance came out top again with a consistent good performance in all categories of rating. ASPCA Pet Insurance was again second. Both insurers showing consistently good service and processes reflecting their overall good scores.
Nationwide Pet Insurance and Embrace Pet Insurance came in joint 3rd, and Pets Best Pet Insurance followed them, but again, all the ratings were incredibly tight with all 7 insurers scoring between 8.81 and 9.78!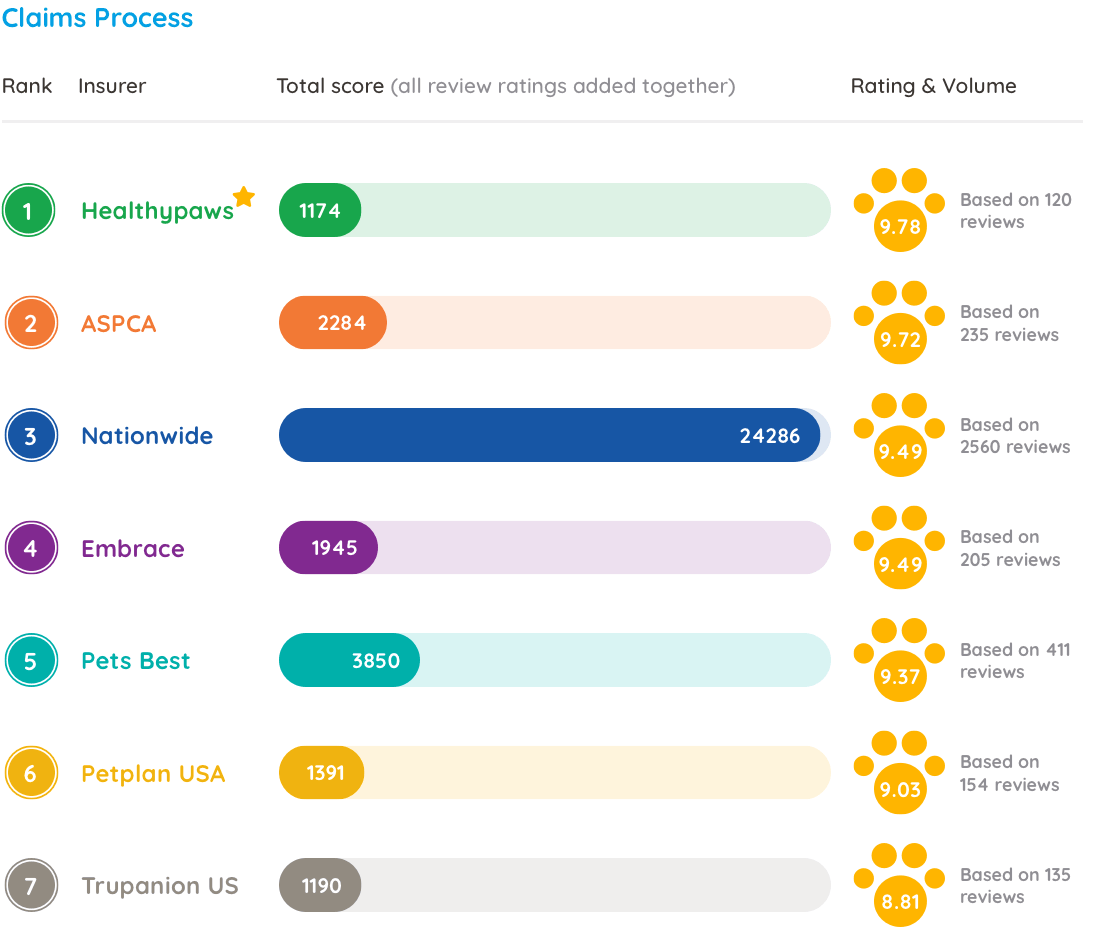 You can find out more about all our insurers by visiting their pages on our site which you can reach through our insurer listing page which ranks our insurers by their weighted average score from all reviews received since the site was created.
Thank you for all your reviews!
We're grateful for every review left on our site. The reviews pet parents take the trouble to leave with us help other pet parents choose the best pet insurance for them and their furry friends. This means more and more pets are able to get the veterinarian care they need, when they need it, as pet parents have the financial support they need in a crisis.  The reviews also help us generate revenues from the insurers and allows us to donate a proportion of what we earn to NSALA and Humane.
Thank you for making this possible!